November 29 2011
3
29
/

11
/

November
/

2011
12:43
This morning, the Handimachal team gathered on the Dhalpur ground in Kullu to attend the annual Sports Day for disabled children. Sport was not the only program of the day. This day was also the opportunity to share, discuss and for parents to meet while drinking "chai" (Indian tea). It was good for children with disabilities to have a change from everyday activities. Children from Nab school (visually-impaired) and Nav Chetna (mentally retarded children) arrived in organised groups and seemed proud to wear their school uniforms!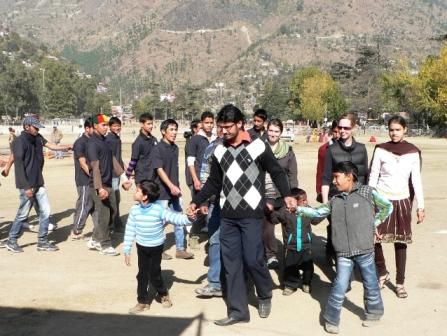 Mayur Sharma, physiotherapist in the Handimachal Kullu Therapy Unit (HKTU),
with kids, followed by Laura, April and Sofia
Finally, eight children and teenagers from HKTU reached the ground, one by one. Apart from Ramneek, all of them attended this kind of event for the first time! Different expressions could be seen on their face: some of them kept their usual smiles like Sofia and Premjeet, but Kaartik and Keshav seemed a little unsure of all the excitement!
Kaartik ("what is this all about?...")

Ajay and Premjeet, during Bocce game:




"So Premjeet, just throw the ball over there!"
Different activities were proposed to children according to their age and capabilities. By this way, each one could participate in athletics activities (race, assisted walk, softball throw, skipping) or/and in Bocce activity (a kind of ball game). The day took place in a convivial atmosphere, with a musical background created by two youngsters from NAB School. After the last (of a long series) speech was delivered, each speaker congratulating and thanking each other, it was time for prize giving. Gifts and medals brought large smiles and many applause. The day ended with official guests, parents, children, representatives from NGOs and all volunteers sharing a big meal.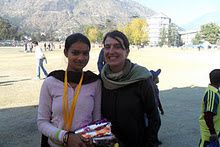 Sofia (we are so proud of you!) and Laura
On the following day, good news arrived: Ramneek, Premjeet and Sofia are selected for the State competition in Mandi – and this will be after a few days only!
Laura Turnacco, French adapted sports teacher,
volunteer in the Handimachal project (September to mid-December 2011)
25 November 2011

Throwing a ball might not seem a big deal to you… Ramneek was a very good cricket player before his stroke, and very popular in Kullu as we came to discover; when we first proposed Sofia to do some sports activities in the Unit and realized she was left on the side of sports grounds in school, she naturally became very shy and probably thought that this was not for her at all…
To push back the natural and social limits imposed by physical and/or mental impairment is one of our main goals: proposing for each child a specific and daily rehabilitation program through sports, in addition to "usual" therapies, is now part of this global process. Laura has been our first volunteer for this kind of program and thanks to her diplomacy and patience, thanks to her observation and analysis abilities, she managed to involve around ten children and teenagers in daily sports activities. What is more, she succeeded in making them happy while challenging their impairment through playing, and, as far as we are concerned, she managed to impose adapted sports as an obvious development tool for disabled children. Merci Laura!
Dominique, 29 November 2011
More pictures of that special day below, just click on images to launch the slide shows
Tony, many thanks for being our special and official photographer!