November 29 2009
1
29
/

11
/

November
/

2009
18:39
On November 29th, the team of the Handimachal Kullu Therapy Unit spent the whole Sunday in Bagan, a remote village high above Kullu (in Shilana penchayat), in order to hold a new meeting with the local population. Thanks to the active involvement of the penchayat president, local teachers and village volunteers, the day went smoothly and there was no delay in the program. The meeting was held on the grounds of the village government primary school, offering breathtaking views on the valley and on snow-capped peaks far away above Manali.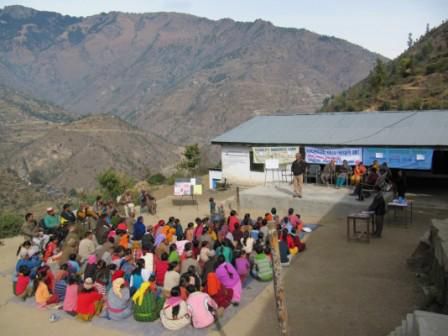 Meetings are now more co-ordinated and efficient: Yuv Raj and the penchayat president gave a short welcome speech, then Yuv Raj explained the objective of the Handimachal team's visit and the day's schedule. Kanica and Evert, in turn, explained the nature of their work and why it is so important that disabled children receive physiotherapy and/or occupational therapy treatments.
Kanica, Yuv Raj and Evert (also in Hindi!) acted out a play to highlight some of the problems related to disability which were then freely discussed with the audience. This was followed by a talk on general health requirements, and particularly on risks resulting from deliveries at home.
Our theme song, interpreted by Yuv Raj together with the audience, ended the meeting. Tea and refreshments were then offered. Kanica and Evert made a first assessment of 22 children, some with severe deficiencies, and requested their parents take them to the Handimachal Unit for further evaluation. Unfortunately, our team also had to face the disappointment expressed by some elderly persons when they realized that no regular medical check-up was proposed!
The new awareness camp was very successful. One hundred twenty persons attended, providing the Handimachal team with the opportunity to strengthen its involvement within the local community.