December 10 2011
7
10
/

12
/

December
/

2011
10:30
I am writing this blog on the first rainy day of winter, which also happens to be Disability Day at the Unit. Balloons and streamers decorate the Unit and now we wait for children, though it's been raining hard throughout the night. Due to the dust, we would normally welcome the rain though not on this particular day.
My days here in Kullu and in the Unit will soon come to an end. Laura and I ended our day yesterday with a quiet walk above the town, close to Ragunath Temple and contemplated on how slow life can be here as opposed to the bustle and hurry of our lives back home. I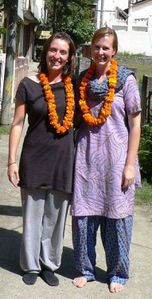 hope to take this slowness back with me. I also hope to always remember the kindness shown to me by the parents of the children I have seen. The parents' dedication to their children is immeasurable and worthy of mention.
It is difficult to write this article now without using "we" and "our" as Laura Turnaco, my colleague and roommate, have spent nearly every day together since her arrival on September 4. We have shared so many experiences together and have enjoyed much "funny time" sharing French and USA songs, movies and book ideas. Our "to do" list before leaving mentions those people we still need to visit, pooja we still want to attend and pictures to be made of shopkeepers of whom we have made friends. My Indian experiences would not have been the same without her.
Most of all, the children I have met here in the Unit, in the schools or in the homes have made my experiences whole and worthy of the trip half way around the world. It has not been until goodbyes are beginning to be said that I have felt how strong the impressions are the children will leave upon me. It feels good to pass the torch off to the Unit's new permanent OT, Naveen Dhiman. By his presence, the Unit will be able to sustain the current number of OT patients and hopefully soon exceed this number as he reaches out to those parents with his native Hindi and pleasant manner.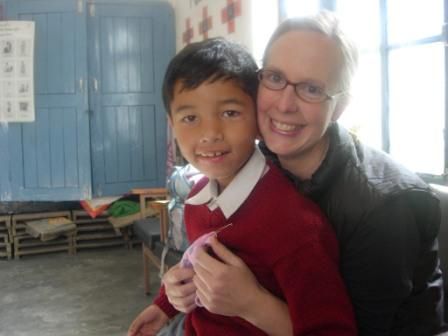 As I finish this article for the blog, the sun slowly shows itself through the large oak tree on the playground just outside the Unit's window. Hot tea warms my body on this chilly day and we look forward to hosting those children who will come today.
April Knight, volunteer OT

---
Yesterday saw the first snow fall in Manali, down to Raison not so far above Kullu. This was not enough to stop Raju and his wife Asha to drive down to Kullu and attend the small farewell party for Laura and April. Unfortunately, not many parents took that risk, and only a few children were present: Pushpa, Himanshu, Moni, Anuj and their parents, five children from Nav-Chetna school with one special educator, Mr. Shreheli (Nav-Chetna), and Desraj's mother. Not a favourable day for a get together, which shows again the difficult conditions in which we have to run this project.
Only five days before leaving Kullu, April and Laura: I hope you will make the best of it and bring "warm" memories back home!