May 6 2012
1
06
/

05
/

May
/

2012
13:48
Below are two messages received this week from Alycia Walker, our new OT volunteer from England, and from Christelle Pettazzi, introducing a new APA activity in Kullu.
---
On arriving in Kullu and I was quickly made to feel welcome by the team and especially Christelle and Siobhan who made space for me in the flat and shared their experiences of working within a culture so distinguished from what we know in the west.
I have been here a little over two weeks which has given me the chance to gain an overview of the unit, both the strengths and current challenges to delivering effective intervention. The unit is so valuable to the community and the number of children attending the unit consistently seems to be increasing. However there is an obvious lack of knowledge regarding disability and the efficacy of modern intervention as well as geographical and financial issues pose a challenge to sustained commitment from many children that without intervention will not achieve the quality of life they are deserved and capable of.
I understand that change takes time and must begin from the foundations. The team seems well equipped to progress forwards with local knowledge and experience coupled with new ideas and ways of working.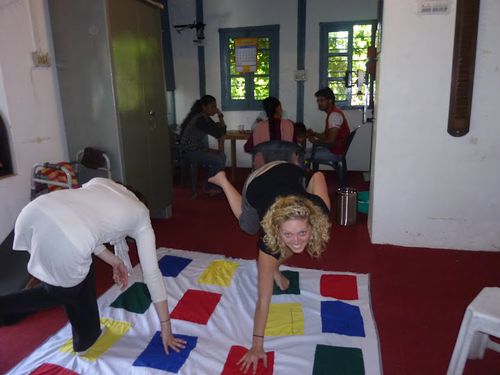 Alycia experimenting the new Twister game
(see article below)
---
Introducing the new Twister game in the Handimachal Unit
We have finally managed to gather the necessary rupees and material involved in the making of the Twister game (which was not that easy…) but the game is ready at last! This was made possible thanks to the active involvement of the whole (female) team and particularly Kirna, who spent long hours sowing together by hand the different parts of the game.
We can now experiment the game and play endlessly with lot of pleasure and laughs (see pictures).
I wish to thank the whole team for their involvement and interest in the realisation of this game, the purpose of which is to work on motricity, coordination, balance, attention, listening and memorizing (colors, directions, parts of the body) capabilites of children.
And this is not the end. Within the next few days, we will complete the making of a soft tunnel through which children will be able to crawl, move on all four and play.
Christelle Pettazzi
---