December 28 2012
6
28
/

12
/

December
/

2012
23:21
This post was written by our local Speech Therapist, Ajay Kyashap, before the Christmas holiday.

I would like to share with my friends the techniques that I have learned from Denise who came all the way from Canada to Handimachal to enhance my skills as a speech Therapist. First of all I would like to thanks Dominique and Samantha for arranging Denise' visit to Kullu as they had the vision that the current case load of children with complex needs are mounting up and I specially need some more skills to cope up with the rising case load.
I would like to highlight some of the cases in which I have gained more speech techniques.
Priyanshu: A 9 yrs old boy who is stuttering and has a family history of stuttering with mother and father both stuttering: we made a formal stuttering assessment for him through which I identified the area in which he is stuttering more and designed my therapy accordingly.
Keshav: A 15 yrs old boy suspected of having congenital short soft palate. He started to learn about picture symbols for communication through Board maker software which Denise has introduced in the Unit.
With some of the younger kids I have learnt the techniques of safe swallow and feeding assessments. I have learnt the physical prompts for articulation for children with Apraxia. We have gone through the picture exchange communication system (PECS) with Milan our new patient who is intellectually challenged.
Anirudh is one of our patients and I suppose first in Kullu with cochlear implant: we studied how to give Ling six sound test to him and to Denise's surprise, Anirudh says "BA" for "ball" now.
I have gained a lot how to give language therapy to children with Hemipressis.
Denise also shared her vision for the project, including proper scheduling of patients.
I have been able to discharge one of the speech patients named Naresh within a period of two months only and whose telecast will very soon be available in Discovery channel. At the end I would say that I can put more varieties in my cases for the betterment of my patients.
Ajay Kashyap
Speech Therapist
Handimachal Kullu Therapy Unit.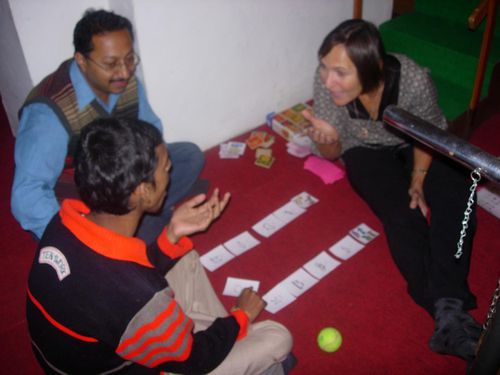 Ajay, Denise and Keshav, October 2012