August 3 2014
1
03
/

08
/

August
/

2014
14:10
Do you know what APA means?
It means Adapted Physical Activities. APA was first started in Canada during the seventies. The idea of APA is to use different kinds of physical activities and exercises which are adapted to a person with special needs to improve his/her mobility, health and cognitive functions. The APA teacher is a professional with a background in health and healthcare, sports and body functions.
What does an APA volunteer do in the Day Star School ???
Professionals and volunteers from Handimachal regularly go and meet children with disabilities living around Manali but also the kids with special needs who study in the Day Star School learning centre.
I am an APA volunteer at Handimachal and arrived in Kullu in April 2014. I started to get to know the kids of the centre through games, such as the parachute, where everybody played together, collaborating and having fun!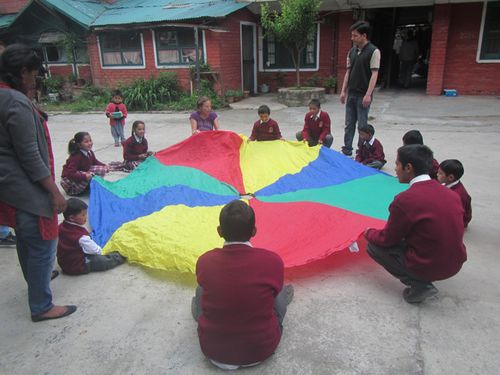 The parachute game: everybody can find a way to play together !
The parachute helps!
After getting to know the kids, the APA volunteer plans an activity programme corresponding to the kids' specific needs. This could be in the areas of balance, concentration, coordination. But first of all they need to move and play to improve their physical capabilities! Like everyone !
APA works not only on physical capabilities, it can also be a way to improve academic knowledge (e.g. colours, numbers, understanding and following rules), self-confidence, and health (e.g. diabetics, obesity).
Twice a week the kids of Day Star School can enjoy APA sessions in order to improve their physical capabilities, the knowledge of their bodies, and to have the opportunity to play with each other, respect each other, following rules, getting to know new physical activities.... and enjoy!!
Glimpses of moments spent together:
| | |
| --- | --- |
| | |
| Relay, learn to be a team, run, jump.... | |
| | |
| --- | --- |
| | |
| Orientation game: look, run and find! | Running after each other during the postman game: the child learns to wait his turn, to be attentive, to run! |
APA in Day Star School Manali, every Tuesday and Thursday mornings.
Florianne, APA volunteer (France)
---
Many thanks, Florianne, for these moments of fun and joy given to special needs children in Kullu and Manali.
Florianne will finish her mission at the end of this week and will be relayed by Maïva, also from France, who has already reached India.
I would also like to thank very warmly our current OT volunteer from Singapore, Wai Ming Leong, who is bringing his experience and expertise to our team. Wai Ming will be with us until beginning of September.
We are also priviledged to welcome a new speech therapist volunteer from the UK this week: Abigail Page will reach Kullu on 5 August morning for a two week mission - it is of course a very short mission but much required for the enhancement of our quite new speech therapy practice.
Not to forget Marion Faure, a young OT from France who has been helping me managing the project since the beginning of this year: over the last two weeks, she has been able (at last!) to discover the Handimachal Unit and the team, some of the children and their parents, discuss some clinical issues and organisational points, get an insight of the local community. Merci Marion !
Finally, I will be leaving back to France at the end of this week, after spending six weeks in Manali and Kullu (and other magical areas of the Indian Himalayas).
Handimachal is making big steps towards the community nowadays, and this will be the subject of my next post, hopefully before I leave Kullu valley.
Thanks to all of you for your support in this extraordinary adventure.
Dominique, 3 August 2014
---