August 16 2011
3
16
/

08
/

August
/

2011
05:36
Three important facts should be highlighted this month:
The level of attendance has been quite good lately, during the summer holiday, with 7 to 9 children receiving treatment every day in the Handimachal Kullu Therapy Unit - let's hope that once schools will reopen again, parents will keep bringing children to the Unit.
Secondly, our speech therapist, Ajay, is the happy father of a newly born daughter. All our congratulations and best wishes of happiness to Ajay and his wife Bhabuti!

Finally, April Knight, our new OT volunteer from the US, arrived in Kullu on 3rd August and is already fully emerged in the local community . Yesterday, she could finally (after a few power cuts due to heavy rain) send her first article for this blog to deliver her first impressions on her first home visit in Naggar on 10 August.
First impressions of home visiting with the HKTU therapy team, by April Knight, occupational therapist

"Today we went up to Naggar and close to Manali to visit five children in their homes. As we approached the home of Vaishali, we were met by cows in the front yard and a very elderly woman on the front porch. A very smiling Vishali and her mother greeted us in the sunny front room. Here I would have my first of four cups of tea this day. We taught Vaishali's mother to utilize items she already have in their homes for the children's stimulation and therapy progress.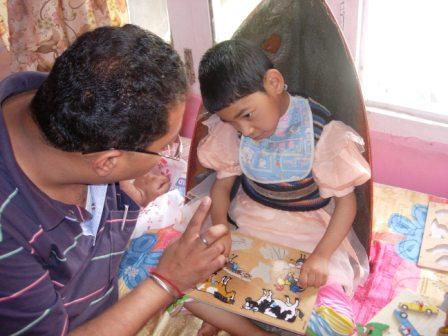 Vaishali and Ajay

For the second home visit we would climb two sets of clay stairs in the dark before entering into a dark room with an earthen floor to meet Sonali and her mom. Sonali is left with TV on all day - alone while mother is in the fields and father is in the shop. So much do I want her father to take Sonali to the shop with him but this is not done. She is a very bright child and I thoroughly enjoyed my visit with her.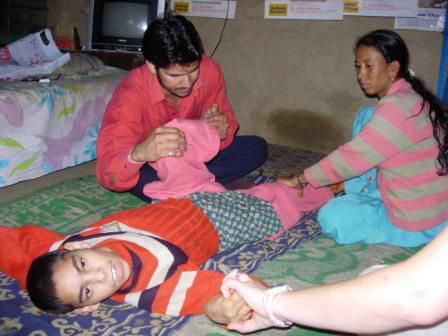 Sonali during her physiotherapy session, with Mayur Sharma

During our third visit to meet Suraj, we are met by a smiling grandmother after creeping up an old wooden staircase. She is drying out herbs on the floor for medicine- some of which she gives to Suraj to prevent seizures. The family states Suraj has no mental abilities but I'd like to think otherwise. This family I would like to invest more time, for they think Suraj's case is hopeless. I believe this therapy team can show by example through regular visits that Suraj's life is one to be valued and celebrated. During our visit today we discovered he is in danger of falling from the second floor as he is kept on the porch all day by himself while the family works. This team is working with the family on a more safe option. On a positive note he can watch the street activity through gaps in the railing. Never would I have thought of this as an ADL - attending to street activity - but perhaps more stimulating than TV!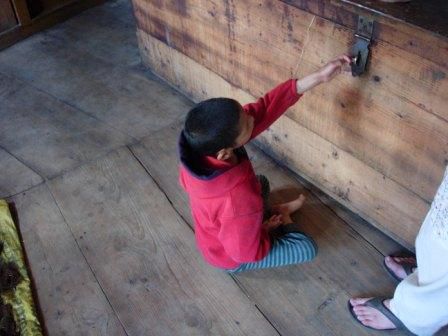 Suraj on the house balcony, experimenting a new exercise:
playing with the lock of a wooden trunk...

The fourth visit takes us down a long tiny road where we then get out of our hired car to walk down a beautiful trail through an apple orchard to meet Harshit and both of his parents. We met Harshit sitting upright in his specially made chair. A former OT, Catriona from Scotland, made measurements for and purchased this wonderful chair for Harshit - I am so impressed with her skill. I can learn so much from all of the former OTs that have served the Unit before me! Harshit has several seizures a day and we witnessed one as we were leaving.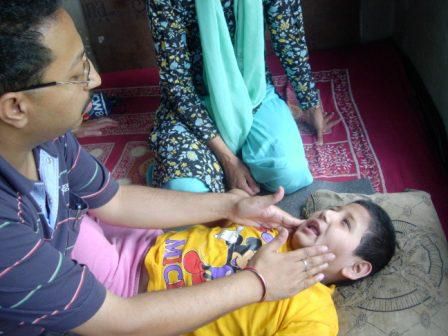 Harshit and Ajay

Late in the day we saw our fifth child, Nitesh and I had my fourth cup of tea! With all the caffeine in my system I will be up all night! Nitesh comprehends much but his behaviour is a problem as he is very shy. We are encouraging the parents (who were both present and attentive) to bring Nitesh to the Unit. It is unfortunate for Nitesh that he does not have a one-on-one aide for primary school, as sometimes is offered by the government for children with disabilities.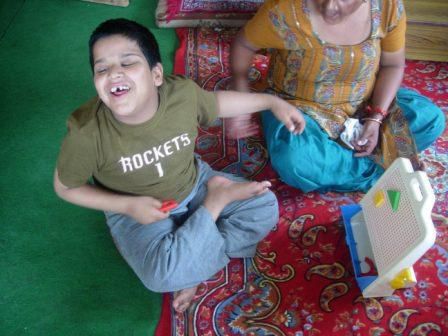 Nitesh: a new challenge for April

A challenge for our team members is to teach families how to utilize items they already have in their homes in order to provide creative play and to convince them of the importance of spending daily time with their children. I hope our team can continue these home visits on a regular basis. Teaching parents how to provide creative and playful stimulation in a safe manner within their own environments - this is the essence of the home visit, both here in India and abroad.
April Knight, OT volunteer
in the Handimachal Kullu Therapy Unit
(11 August 2011)
My time to join the Handimachal team is also coming near: on 22 August I will reach Kullu-Manali for my annual stay in the valley. September will be quite busy, with several visitors, friends and volunteers... More to read very soon on this blog!
Dominique, 16 August 2011