November 22 2013
6
22
/

11
/

November
/

2013
00:39
As part of Handimachal's awareness programs, we have been conducting disability seminars in schools for over a year now. We have covered over 10 schools so far, situated near Kullu. The main aim of these camps is to educate the population about disability issues and spread the word about Handimachal's services.
Before that, we used to conduct disability camps in villages. After covering over 25 villages in Kullu district, we did a review of the effectiveness of these camps and reached the conclusion that this kind of camp did not allow us to reach our goal, the main hindrance being that we could not target the children age group and our disability camp ended up more as a medical check-up camp, with a majority of adult population turning up in huge numbers. By attracting this adult population, we ended-up spending more time assessing the general healthcare needs of people and could not focus on our target group of children, nor could we spend enough time educating the villagers about disability issues.
Hence, we chose to explore other modes of generating awareness which could be more focused and effective. With the school camps we are able to do that.
We encourage whenever possible to have the High School and 10+2 grade students, along with the entire teaching staff, to be present during the camps. We begin with giving a brief introduction about Handimachal history and present day organizational information. Disability concepts and types, treatment options, prevention and rehabilitation benefits are then discussed in a very interactive and educative way with the students. Students usually participate by answering questions put forth by the therapists. The different therapy services are then discussed in a very practical way.
Then comes the most fun and educative way by which the students get a first-hand experience of what it is to have a disability. Four teams of three students each are formed and each team is supposed to act and react as if bearing one specific impairment (either physical, visual, hearing or speech). The physically-impaired and visually-impaired teams have to walk across an obstacle course. The physically-impaired team has to manage sitting in a wheelchair, one student sitting in the wheelchair and others two helping him. The visually-impaired team also has to go through the obstacle course, one student being blind folded and others two helping him. The hearing-impaired and speech–impaired teams have to do a dumb charade activity, wherein one student has to explain to his team a situation by gestures alone. All teams are given an activity sheet on which they have to note down the difficulties, strategies and learning experiences while performing the activity.
Students are usually very enthusiastic about such activities and come with positive feedback while de-briefing. Children and teachers in the audience also show lot of interest. All the teams are then receiving various awards, to appreciate and congratulate their effort. Alternately, we sometimes also conduct Slogan, Essay, Elocution and Painting competitions.
We are able to put across our point more effectively in front of children; children are very interactive and also tend to spread the word wider. Teachers attending such awareness camps are more effective in being the mode of reference. Over the past few months, several young patients were referred to the Unit further to our school camps. We plan to cover every school in and around Kullu-Manali area and are positive about its far-sighted influence and effectiveness. Children being the future torchbearers of our society, we hope our future will lie in safe and empathetic hands.
"Hand-in-hand with differently-abled children", this is our motto at Handimachal…
Shruti More
Occupational Therapist
Below are a few pictures of activities organised with students of DPS School in Manali a few days ago (it's fun but educative and challenging).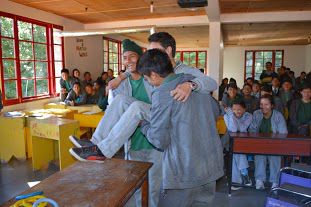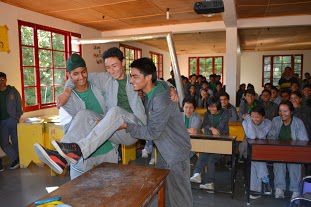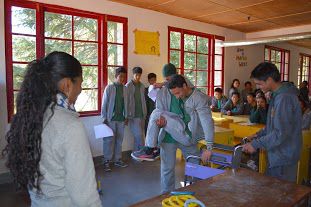 ---