March 11 2012
1
11
/

03
/

March
/

2012
22:21
Last Thursday was Holi in India, the religious spring festival celebrated by Hindus, also known as "festival of colours".
As the Wikipedia encyclopedia states: "One of Holi's biggest customs is the loosening strictness of social structures, which normally include age, sex, status, and caste. Holi closes the wide gaps between social classes and brings Hindus together. Together, the rich and poor, women and men, enjoy each other's presence on this joyous day. Additionally, Holi lowers the strictness of social norms. No one expects polite behavior; as a result, the atmosphere is filled with excitement and joy."
This is what our two volunteers could experience in Kullu on that day.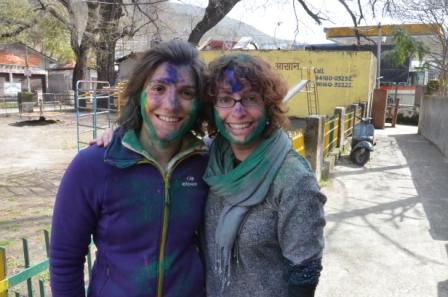 Christelle and Siobhan
in front of the Handimachal Unit
Christelle Pettazzi, our new adapted sports teacher from France, reached Kullu on 3rd March, ready to fight barriers for more than five months in order to impose adapted sports activities as a new mean of rehabilitation and development of disabled children. Christelle came with her boyfriend François Courtois, a French special educator, who is now based in Manali to offer his services in several schools.
Christelle will tell us more soon about her first experiences in Kullu and Manali. I am sure she will have a lot to share at the end of this week, as two boys benefiting from our programme, Rishab and Keshav, will take part in the "winter and summer competition" organized for five days in the Mountaineering Institute in Manali…
Luckily I will arrive in Manali soon enough (next Sunday morning) to attend the last day of the competition.
Dominique, 12 March 2012