March 18 2011
6
18
/

03
/

March
/

2011
15:52
At the time I am posting this text, Catriona Helliwell's six month mission as a volunteering occupational therapist in the Handimachal Kullu Therapy Unit is already over since more than two weeks, as she lef Kullu on 3rd March 2011. She has since been continuing her travelling to Australia and will soon begin a new assignment and a new life in New Zealand. Catriona's positive energy and enthusiasm, together with her involvement with disability children, have left strong impressions to every one and we are very grateful for her work and dedication.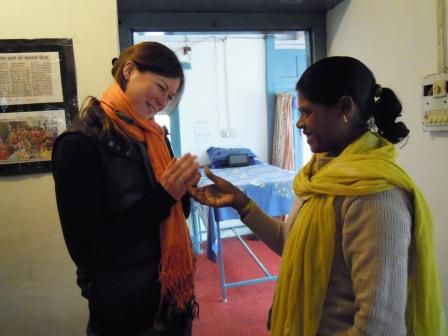 Is there a better recognition than a mother's smile?
Kartik's mother showing her gratitude to Catriona
This is the text she sent from Sydney day before yesterday, which we would like to share with you all. All the best Catriona!
"When I first arrived in Kullu six months ago I was excited and inspired by the magnitude of the challenges to come. However, I could never have anticipated the depth to which my time in Kullu could have affected me, and it is only now that I've left that I realise just how treasured my time there really was.
It has been incredibly rewarding to be a part of the steady progress made both within Nav Chetna School and the Kullu Therapy Unit, progress that I'm certain they will continue to make with the support of the new OT volunteer, Sara.
I will greatly miss Kullu, my colleagues, and the children and families I was working with and would like to take this opportunity to thank you all for your support and friendship. I wish each of you, and the project as a whole, the very best for the future and hope to be able to return again one day to again see your ongoing progress.
Catriona Helliwell
Paediatric Occupational Therapist"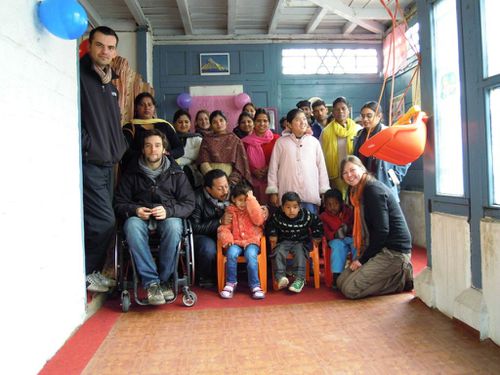 Group photo on Catriona's farewell party, 3rd March 2011:
from right to left: Catriona, Kaartik, Atharav, Somya, Ajay,
Thomas and Guillaume (from France),
children's mothers and Ajay's wife, and (right in the back) Sara and Kanica,
Kirna devi ("Auntie", with the pink scarf)
one student and special teachers from the Nav Chetna school