October 30 2013
4
30
/

10
/

October
/

2013
05:50
The difference Handimachal Kullu Therapy Unit has been bringing to the differently-abled children in the community through its weekly programmes has been impressive and we start planning to reach the unreached hundreds in the remote areas of Himachal Pradesh, namely the Lahaul-Spiti district.
Working with the community being our prime focus, we started off by thinking about an outreach programme which directed us to Mr. Elias Paul, RBCC Director who is active in the Lahaul-Spiti district. We started off coordinating with RBCC (Rural based community care, a separate wing under the Lady Willingdon Hospital, Manali) in this regards and got in touch with the management of District Institute of Education and Training (DIET) Lahaul who have approximately 170 government run schools under them.
All thanks to the heads of DIET who valued our initiatives and helped us in gaining vital information regarding the prevalence of differently-abled children in the district. Furthermore the positiveness shown by Composite Regional Centre, Sundernagar (a central government Centre under the Ministry of Social Justice and Empowerment) helped us in providing aids and appliances to be distributed to individuals in need of it.
Gaining the involvement of local actors in this field gave us a clear direction as of what can be done and we planned for a "Disability awareness, identification, treatment and Therapy aids distribution camp" at Lahaul (Keylong/Jhalma and Udaipur). After much planning and coordination, we could finally draft our itinerary from 29th to 31st August 2013.
After initial hiccups the morning we were supposed to leave, we the six member Handimachal team, Mr. Elias and the CRC team from Sundernagar set out on our trip hoping to make a difference and reach out to as many as many as we can.
After a warm welcome and introduction by the DIET team at Keylong we were put up at their guest houses and later spent the evening resting and preparing for the next day.
Day 1:
It was a pleasant morning at Keylong and together with the DIET and CRC teams we drove to the Lahaul and Spiti tribal museum to conduct the camp. We were provided with an ample space to organise our things and we setup our panel of therapists, technicians and counsellors to find the place already brimming with school children waiting for us to start our procedures. We were very pleased to see the involvement of DIET who directed the school teachers to get the kids with special needs along to the camp and also provided the kids with much needed travelling and daily allowances.
Time flew by as we screened, treated, referred, counselled and distributed aids and appliances for various individuals both young and old. By the end of the day's work we could provide our services to more than 130 individuals which was a lot more than what we expected. We packed and drove for 4 hours to our next venue, the RBCC Clinic (Papamiya) at Madgram, Udaipur and rested for the day.
Day 2:
We woke up the day to the awesomeness of the place and after having a quick photography session (which we didn't want to miss); we drove to the Government senior secondary school (Udaipur) to conduct the camp. We set up the panel again and were immediately greeted by groups of children accompanied by their teachers. The day started with a bang and by the end of the day we have attended to 130 individuals more.
Apart from this we ran into some social workers working in the area who knew more individuals who would benefit from our services and catered to their needs as well.
I took time to thank every individual from RBCC, DIET and CRC not forgetting my dear team from Handimachal for the team work, hardwork and for sharing the vision together.
Altogether this was a very successful camp through which we could cater to more than 250 individuals and helped them avail services that the government through CRC had to offer. This camp also enabled us to make dear connections with the DIET coordinators and local actors who wanted us as resource persons in training the general teachers and the community in the near future. We plan to follow up on the camp by coming up with a Community based rehabilitation (CBR) program after finding and training individuals who can take up the responsibility on a day to day basis. We also plan to increase our services in the Lahaul and Spiti districts by doing more visits.
We are happy to have worked with various actors in the community on a big scale and reaping big results and finally succeeding on fulfilling our aim of working for the community and by the community.
Very special thanks from the Handimachal team to Mr. Elias and his RBCC team, Mr. Saini and his CRC team and the DIET team from Lahaul who enabled us to meet the ends and make this effort meaningful and sustainable. We come back encouraged and begin hoping and working for more of camps of this kind in the days to come.
M. Benoni
Programme coordinator
Handimachal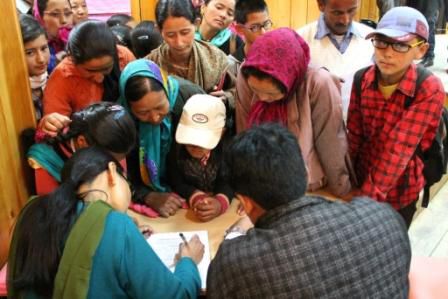 The registration desk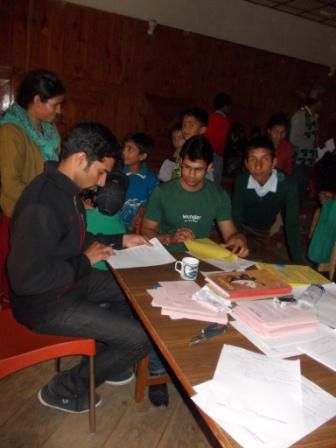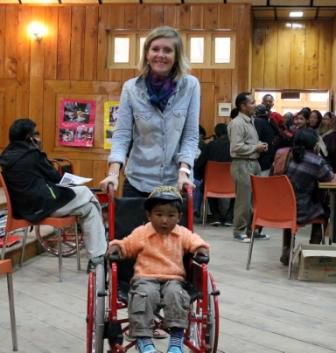 Gaelle with a child at Keylong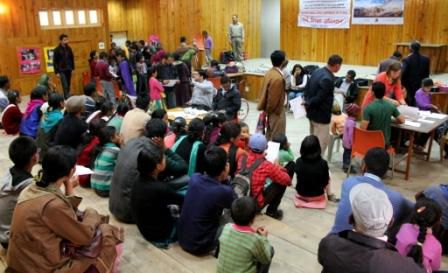 Camp underway at Keylong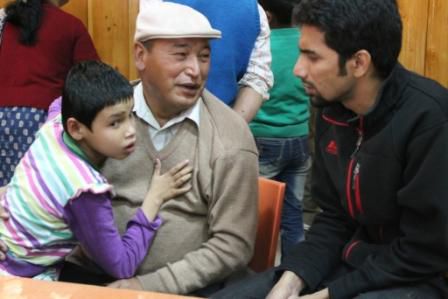 Benoni with a Parent and a child at Keylong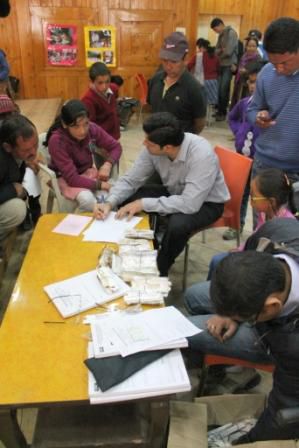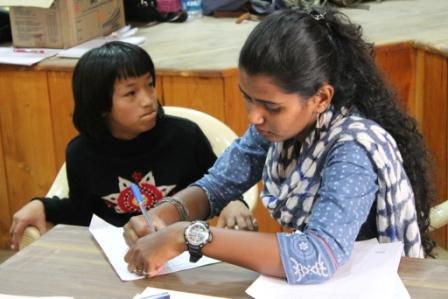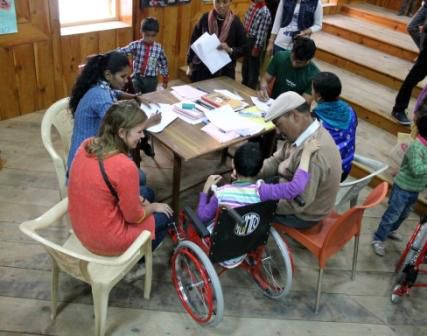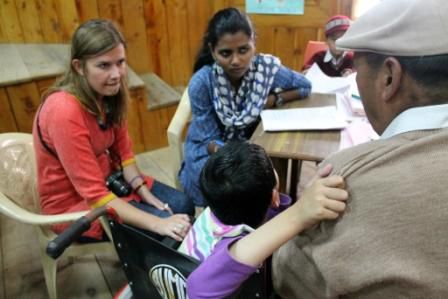 Shruti and Tori at work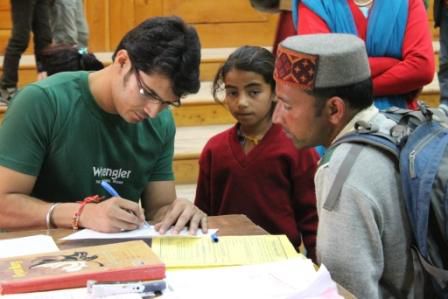 Handimachal team member at work (Mayur Sharma, physiotherapist)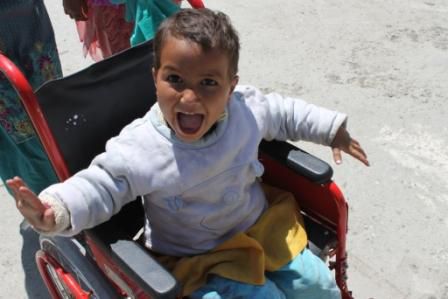 A happy kid at the Udaipur camp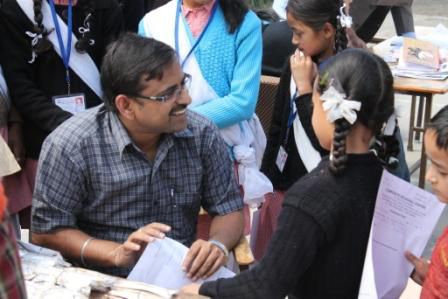 A CRC team member at work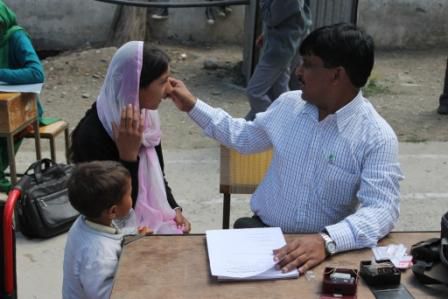 A CRC team member at work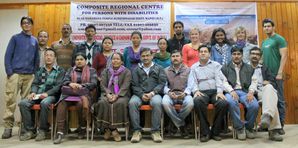 DIET, CRC, RBCC and Handimachal teams after the camp at Keylong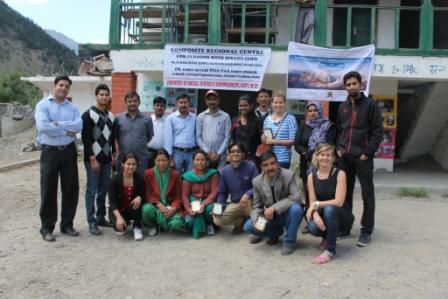 DIET, CRC, RBCC and Handimachal teams after the camp at Udaipur
---