March 18 2011
6
18
/

03
/

March
/

2011
12:41
Our new OT volunteer, Sara Vinther Fredslund, who has agreed to give six months of her life to the Handimachal project, joined our team on 1st March. As you will see her perception of local life has already tought her the most important concept in Indian philosophy: patience!
"It's now more than two weeks since I first set my feet on Indian ground, let alone Kullu and the Handimachal Therapy Unit. I was asked to write an article for the blog about my first impressions. I'm not even sure anymore what my first impressions were and if the impressions I have now count as that. In fact it was so cold when I first arrived that my frosty feet and freezing fingers made it impossible for me to absorb any other impression than that.
Now the sky has cleared and it's getting warmer with each day that passes. Everything woolen has now been put in the very back of my wardrobe and left me the space to discover Kullu in a different light. Literally.
Moving to a strange country always shakes up your world. Not only does it teach you about other cultures, religions, traditions and behaviors. It also makes you realize things about the place you come from yourself. Things you take for granted and see as the obvious way of doing things. The combination of these two ways of expanding your horizon is one of many things I like about travelling to faraway places. Another thing that attracts me is the challenges you face on both a personal and a professional level. Although having many previous travels behind me, I'm becoming aware that the journey I just started will provide me with some of the greatest challenges so far. Not least thanks to Catriona who undoubtedly left a profound impression on everyone here, colleagues as well as children and their parents. I was pleased to share my first days here with her and I hope I can live up to the great job that she's done here for the past 6 months.
I have come to realize that my patience will be an advantage here. When waiting for the electricity to come back after the daily power cuts. When failing to buy a phone deal to Denmark and when each day having a different explanation for not being able to. When the car breaks down and when your plans changes due to rain. When waiting for the sun to break through and not least for the families to realize, so they again will start coming to the unit on a regular basis. Schedules might exist, but they are hard to follow. And you can never predict the day tomorrow. Or even the next hour.
Yet, everything appears quite clear when a child turns up in the Unit. Here a whole new dimension is added to the meaning of patience. My first aim when meeting a child is always to gain a good relation with him or her. The rest will slowly follow. And the challenge of being patient is not only for me to meet. The child must be patient with my poor Hindi and what might seem as the most crucial aspect, the parents need to be patient with both the child, with my work and with seeing a progress which is not necessarily always around the next corner.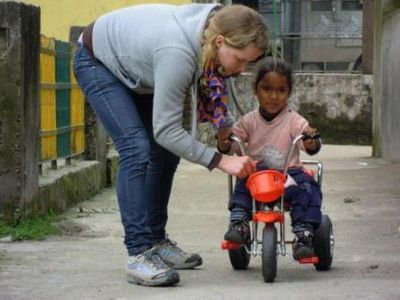 First contact between Sara and a newly registered young patient, Kishan.

Nothing happens overnight in India, except for the weather changes, I've learned that already. Even when being given directions to find my way around in Kullu, I've experienced to be told to turn right at the corner where the old policeman with the mustache stands… "But what if the policeman leaves?" was my first concern. Followed by a very prompt and firm reply: "No no, he won't, he never does"!
Well, I still have some month's time. The police man might still be standing on the same corner by then, but if I can just change something in some children's life before I leave, my mission is completed.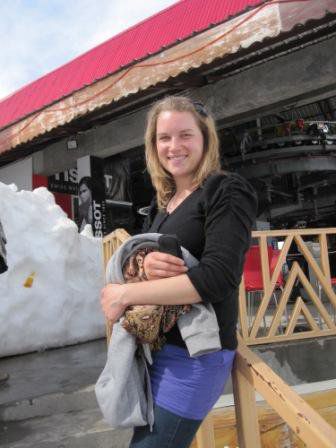 Sara (woolens off!) during her visit at Solang Valley with Kanica