February 6 2014
5
06
/

02
/

February
/

2014
22:18
Whatever work you do is supposed to make a difference, and it does. In our case, the difference lies in what Handimachal has been making in the lives of the many special need children of Kullu valley.
Prakash Thaapa is one such special and ironically lucky child. Prakash was bought to the Handimachal Therapy Unit by his parents at the age of 10 in 2010. He was diagnosed a case of Diaplegic Spastic Cerebral Palsy. He was brought to the Unit by his mother 2-3 times a week for therapy sessions. The mother was involved in the therapy and cooperated to follow the home program. Being a diaplegic CP, Prakash had a fair to good prognosis provided the therapy program was followed up.
Prakash Thaapa in 2010
As time passed, Prakash's visits to the Unit became less frequent and eventually stopped. Sighting the reason that both the parents were now working to provide for themselves and their family and seeing no quick progress in Prakash, the mother became progressively reluctant to follow any therapy advice provided by the therapists. Arrangements were made by the team to get Prakash at the Unit, for half a day without his mother's presence. But the increasing indifference showed by the parents made the little intervention provided by the therapist seem futile. We did not see Prakash for more than a year since mid-2012. In the meantime, Prakash's family moved into new locations, their telephone number changed, the parents started to avoid any interaction with the team. The family went through a turmoil when Prakash's father abandoned the family briefly and remarried. The mother was now forced to work extra to provide for herself and her other two children. Prakash was neglected in the course of events and was kept unattended at home for hours. The state in which Prakash had to survive was inhumanly unhygienic to say the least. This could have been then the end of Prakash's chapter for Handimachal.
But because of our founder Dominique Dufau's relentless persistence and motivation to "push back the limits of accessibility and mortality'' as a constant reminder to the team in Kullu, the team was assigned the task to relocate Prakash and assess any option available to support him. It took a few months to relocate Prakash, and as it turned out, he was indeed a cousin brother of Sagar, one of the children who have been regularly coming to the Unit for his therapy. With almost lost hopes to be able to relocate Prakash, he was in fact very close to the Unit, about one kilometer away only.
A rehabilitation process is more than often a long-term to a life-time intervention. Therapists can facilitate a rehabilitation program but parents and caretakers should be the ones responsible for the major part of the rehabilitation process if any positive developments should take place in the child.
For some parents, just trying to comprehend the disparity between their desires for their child and the disability that exists compounds their emotional and intellectual efforts to adjust to the situation. They may feel grief, depression, anger, or shame. Some may also ask questions such as "why me '' and conclude that they are being punished for sins or bad acts of past. Depending on the severity of the disability and the magnitude of the demand for coping, a few parents may even contemplate death for their child or themselves. These thoughts represent an all-encompassing need to achieve inner peace.
Prakash's mother has gone through all these stages over the years and had reached a state of acceptance, a stage of acceptance with negative regards of any positive development to happen in Prakash. She has resigned to her fate, deciding to look after Prakash till her or his last breath. She had even denied an offer made to keep Prakash in a hostel, stating that she wanted to still keep Prakash in front of her eyes, at the end of the day.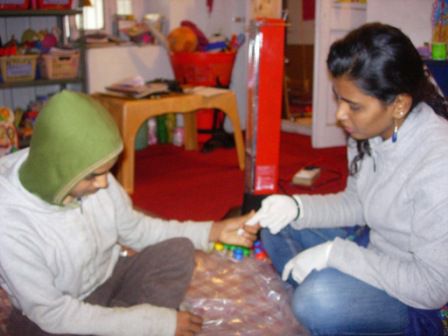 Prakash and Shruti (January 2014)

Now that we have relocated Prakash, our goal is to counsel his mother to encourage her to get Prakash to the Unit, explaining to her the benefits of therapy and the more holistic approach of treatment. The mother now works at a chicken shop, close to the house. The proximity of her house and shop, has helped her to keep tab on Prakash and manage his feeding and toileting more efficiently than before. But there was no follow up on his therapy regime at all. Lots of talking, discussions, problem solving followed, with ultimately wooing the mother by providing momentary compensations. We offered to her a financial grant every month to take care of Prakash needs, if she could get Prakash at the Unit at least thrice a week and follow up on a home therapy plan. Some of our kind donators offered to sponsor for this arrangement for Prakash.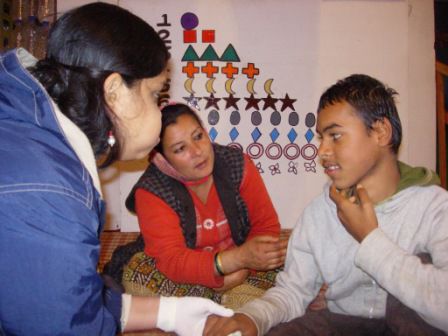 Prakash and his mother during the speech therapy assessment
with Veena (January 2014)

The mother accepted the offer and has started to get Prakash to the Unit from the last month, with 3 to 4 visits per week. The mother has agreed to be involved in the therapy program for a year and has communicated very clearly to the team that, if she does not see any improvement in Prakash she would discontinue thereafter. Counselling the mother continues to the biggest challenge of all. We have our doubts her ability to actively participate in the therapy program at the Unit and at home, in absence of which any considerable improvement in Prakash condition would not be possible.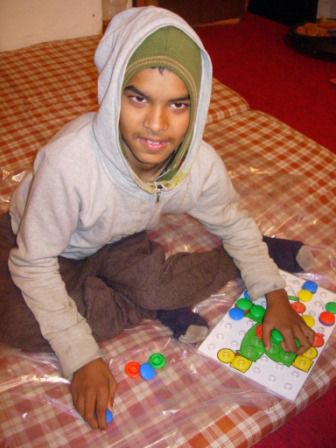 Prakash enjoying his old game (January 2014)

With no intentions of judging the mother or the family or their conditions, we have to admit that Prakash is in a sorry state of affairs. Had his therapy plan been followed since the beginning of his registration in the Unit three years ago, he would have had a better chance of a fair prognosis. Lost time cannot be bought back, the goal now for the team is to provide Prakash with the fairest chance to be able to develop in a holistic way. Sensitizing, empathizing, educating and supporting the mother are equally important.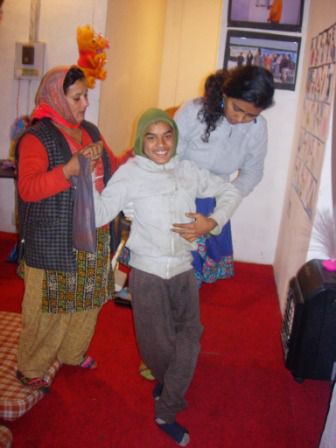 Hand in hand with Prakash (January 2014)

Prakash has been more than happy to come to the Unit, he is motivated and cooperates better each passing day. Hand in hand with Prakash and his mother Handimachal will continue to try its best to provide a ray of hope in the life of this family.
Shruti More, occupational therapist
2 February 2014
---