November 21 2012
4
21
/

11
/

November
/

2012
06:49
My maiden visit to Kullu back in August 2011 was to begin the mountain biking expedition to Ladakh. Little did I know that Kullu was soon going to be my home. My first impression of "Handimachal" was the beautiful blue house across the busy street of Kullu. Out of curiosity for the name I dropped by the Unit and was surprised to find a rehab unit in Kullu and amazed to know about the significance of the project. As I happily cycled through the Himalayas for the next 18 days, the thought of working at the Unit struck. After a series of emails, chats, telephonic interviews, confirmation, cancellation and re-confirmation for the job, I finally arrived in Kullu to fly the OT flag at Handimachal.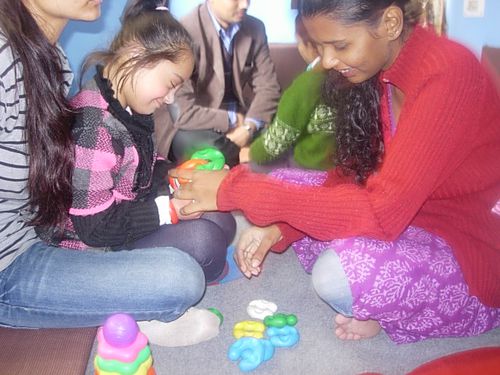 Shruti and Saana, April 2012
Freshly graduating out of university and having just completed the internship, I had my doubts of being able to efficiently apply the knowledge and skills learned in actual practice independently. The first few days was all about observing the environment, learning everything I could about how the Unit runs, personalities and preferences of colleagues and the children and their parents alike, and of course the little social and cultural details like not confusing the local Kullui dialect with the Hindi spoken back home in Mumbai.
Considering the accessibility of the Kullu valley combined with the lack of general awareness about health issues and lack of efficient health care facilities, there is a large magnitude of disability in the valley. The children are usually bought to us late, with little or no medical intervention. Providing parents information on general health care and medical intervention is often a priority before beginning with the rehabilitation therapy interventions. In the past six months I have had to handle cases so severe than any I have seen during my 4 years of training in Mumbai. Dealing with a 10 months old cerebral palsy child to a 19 years Autistic boy, it's quite a range of spectrum of disability I get to work with.
Occupational Therapy (OT) is relatively a new healthcare profession in India. Explaining parents about OT and its role in the child's therapy process is often a prime function. But it is easy because OT is so practical and functional. All human are Occupational beings and the OT covers tons of things. At the Unit my main areas of work are parental counseling, therapeutic exercise, gross and fine motor activities, positioning and adaptive seating, sensory Integration therapy, activities of daily living like feeding, dressing etc, school based therapy and pre-vocational training. I try to work in close collaboration with the parents as I feel the child's family and home environment has a great influence. Making the parents feel supported and empowering them to do the best for their child will always be my priority.
Having to deal with a wide variety of complex cases in the early period of my carrier motivates me to broaden my knowledge skills. Having the opportunity to work with OT volunteers from different countries is a huge benefit. Each therapist has a different approach to therapy; it has been a good learning experience to have worked with them all, I have learnt so many different therapeutic styles from all of them. It has helped me to explore which approaches would work for the children here and who I am as a Therapist.
To make the Childs life meaningful and functional and to make it little easy for their parents is what I would say my work is at Handimachal. As an Occupational Therapist I get the privilege of acting as a voice of positive encouragement into situations which often feel very gloomy. It makes me feel fortunate to have got an opportunity to work in a place like this and make a difference but not without the feeling of responsibility the job demands. It's been six months already and I look forward to the bonding with the children and their families, working with colleagues and volunteers to make a difference.
Shruti More, permanent OT
18 November 2012