August 14 2010
7
14
/

08
/

August
/

2010
21:26
One month gone already! How time flies! To find my place in a new team, to get used to a new environment, a new life style and a new language: quite some challenges to me! Luckily, seriousness of work in the Unit and genuine kindness of people in Kullu are making things much easier.
Welcome to Ajay, our speech therapist, who joined the Unit on 2 August. Ajay is Indian and already has some experience both in his practice and in NGO work. He took on the job very quickly and sittings he already had with children with speech impairment already gave some interesting results. Ajay will of course work in the Unit but will also give a help in NVAV-Chetna and NAB-School local NGOs.
The Handimachal Unit is progressing. The snoezelen room set up by Linda is also improving day by day: we fixed a fancy electric garland, playing on soft colored lights. The room will soon be completed with a small music system and a hammock swing.
Since my arrival, I have been happy to witness progress made by some patients. Ramneek can now better control his arm and his leg. His walking is much improved and motor function in his hand is also clearly showing signs of constant improvement.
Prakash now comes once a week full day and he is quite transformed. Even if he cannot talk, communicating with him is easier each time and through speech therapy sittings we discover his communication potentialities.
And this gives much confidence for his future…
Séverine Crampe, occupational therapist
(volunteer in the Unit until mid-December 2010)
Two pictures during home visits, together with NAB-School special educators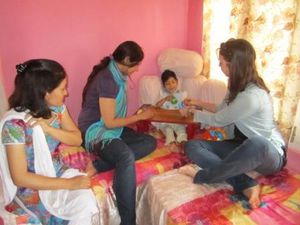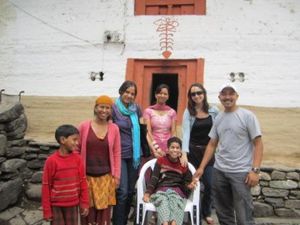 The Handimachal Unit team now counts a local speech therapist, Ajay, who was recruited just before my departure to Ladakh on 17 July. I am very happy about this new development as needs for speech therapy are quite important, both for children registered in the Unit and for children rehabilitated by other local NGOs. Ajay is the first speech therapist in the district. He will also take care of the administrative work of the Unit, together with Kanica, as Yuv Raj officially left the Unit, although he still takes part in some activities on a volunteering basis.
After experiencing strong emotions during the exceptional and fatal flash floods in Ladakh, I am recovering my usual rhythm in Kullu valley, also struck by strong rains, in order to pilot our small Handimachal project but also other projects run by La maison des Himalayas in Manali: the seasonal school for the Rajasthani nomad community (Asha New School), meeting children who are part of our sponsorship programme, support to the small Radha orphanage… such activities allowing me to keep a positive vision on this hostile world.
Dominique, 14 August 2010