December 14 2010
3
14
/

12
/

December
/

2010
12:55
I could never have anticipated the level of improvements made in Nav-Chetna over the past two months. While conditions are still far from perfect; with next door's leaking water tank and the roaming cows continuing to turn the ground we use for sport into a bog and swallows nesting in the ceiling above the desks, significant progress has been made within the school.
Stencil cards made from sand to help
children learn

to write their names

Teaching the Hindi symbols



The motivation of staff to teach the children has increased dramatically. Structured lessons are now being provided with the support of visual symbols, and resources utilized. Activities are now graded to the individual needs of each child and greater focus is being given to increasing the children's independence with activities of daily living. Children who were previously rote learning numbers are now being taught their value. Sensory motor approaches are being used to help children to learn to recognize and form the Hindi symbols of their name. Similar approaches are being used to assist some children in learning both the Hindi and English alphabets.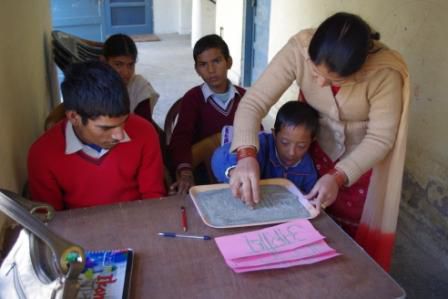 Aashish making use of sensory motor approaches to learn to write his name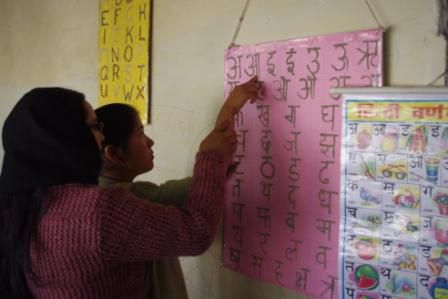 Sensory approaches to learning the Hindi symbols



Playing sports in the ground




outside the school

Participating in the Kullu Sports




for Differently Abled Children
Despite the many difficulties that remain imbedded in the structure of the school and mindset of the staff I am extremely proud of the progress they have made and will miss working with them on a daily basis.
Catriona Helliwell
Paediatric Occupational Therapist
Thank you Catriona for your work with Nav-Chetna's children and teachers. I wish you a very nice holiday in Nepal with your sister, you will probably come back to Kullu with many new ideas! Dominique