November 23 2014
1
23
/

11
/

November
/

2014
18:53
A nice summary of Tori's experience at Handimachal (and in Himachal Pradesh), as published in the OT Frontiers newsletter (October edition).
Thank you Tori for your valuable contribution to Handimachal and to children and families of Kullu district!
---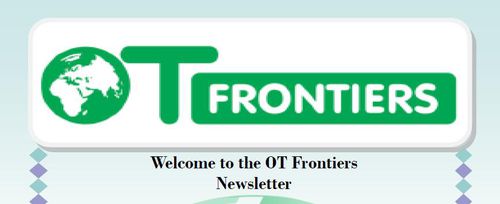 Experience of an OT in India
Volunteering abroad has always been something I have strived to do and after working for a few years as an Occupational Therapist I realised that OT skills are so adaptable and broad, they are the perfect skills to share in developing settings. I had been following the progress of the Handimachal unit ever since I first contacted Dominique, the charity president, in 2010. Finally due to having understanding employers who allowed me a 6 month sabbatical the right time came for me to move to India and start a new phase of my life as an OT in a small hill town called Kullu.
I volunteered at the project for four months, followed by 2 months travelling in India. I don't even know where to begin in describing my experiences working in Kullu. Overall it was the most fantastic yet the most challenging experience of my life. I was lucky enough to be able to get fully integrated into a bubbling Indian community, from walking down the street every morning and getting an enthusiastic 'Namaste' from every shop owner, to spending evenings eating delicious veggie curries with my new 'Indian families', every moment was memorable and special.
Handimachal Therapy Unit is a non-profit charity run organisation providing free OT, Physio, Speech and Special education to disabled children of any age. Any child with a disability was encouraged to attend and due to having no set appointments or timetables our day varied from having 2 children one day to having 15 the next, but the dedicated team was very adaptable and I soon got used to this way of working.
Quite a high proportion of our patients had a diagnosis of cerebral palsy, unfortunately some children were not identified to the unit until they were sometimes up to 10 years old and they would have had very little intervention prior to this. This resulted in us being presented with some very disabled children with contractures and parents who had been trying their best to manage their child but who did not really understand their child's condition. The local government hospitals had very limited resources and had no option for regular therapy input, and certainly no OT. The team has been working hard on spreading the word through disability workshops and seminars in local schools and education sessions for teachers and parents. Most of the referrals were just through word of mouth.
In the local area the majority of the jobs are farming/agriculture, this resulted in it being difficult for parents to bring their children to the unit, particularly during the harvest season. We had a number of children we tried to see during home visits but due to limited staffing these visits were unable to be completed regularly. One little boy who received home visits lived with his parents and his grandmother in a village near Kullu. To access their property you had to climb up a rock face with no steps; the team had to advise his parents to stop bringing him to the unit just because it was such a risk to carry him down the rocks. Luckily he had a very supportive family who were able to continue with therapy activities between home visits.
Whilst I was working with Handimachal we travelled over the Rohtang pass (a 4000 metre high pass connecting Manali with Spiti and Lahaul valleys, a pretty hair raising journey to say the least!) to conduct a 'Disability Awareness Camp' in two of the village areas. During these two days we registered over 250 individuals with disabilities in the area. These areas are impassable by snow for many months every year and access to healthcare is very limited. We were able to provide wheelchairs, walking aids, visual and hearing aids and advice to the local people. During this time I had to really change the way I would usually work, for example providing someone with a wheelchair. In the UK you would not provide a person with a wheelchair until you have completed a comprehensive assessment of the individual and their home environment. Whilst on the awareness camp we gave people wheelchairs that may have travelled for hours to visit us, this might be their only opportunity to be provided with a wheelchair so I had to overlook risk issues in order to hopefully improve their quality of life.
Whilst at the camp we also had the opportunity to stay at an amazing place which was a 'hospital' in a house on the outskirts of a small village called Keylong. This hospital had a small ward of about 8 beds and even an operating theatre. They had no onsite doctors, but doctors would visit when passing through from other areas and provide medical services to local people who needed it. There was one patient there who was found in his house, after being left by his family to die due to there not being any nearby medical services. He had what looked like peripheral vascular disease, and due to pain he had held his knee in flexion for a long time, resulting in contractures. When he was found his knee and foot were black and gangrenous, the carers at the hospital looked after him until his wounds were healed but did not actually know his diagnoses, they just treated what they saw, and for them this seemed to work well.
In time of emergency the local people often had no medical care, particularly during snow. Many women die during child birth, and if there are any complications they cannot access the medical care they need, the nearest local hospital being an 8-10 hour drive away over the Rohtang pass. Even at the hospital in Manali the services were quite limited, whilst there I heard of a man who had a motorbike accident and dislocated his knee, he needed to travel 12 hours to a Delhi hospital in order to receive treatment.
In Kullu there was limited access to therapy equipment and adaptations so we had to create and develop our own ideas. The OT prior to my arrival from France was particularly good at wood work and made a balance board and a wooden standing frame, all very cheap to make but made a great difference to the children. I wanted to look at making some kind of seating system, particularly for the smaller children, whose parents had to always carry around as they found it very difficult to position them.
I liaised with the Paeds team at the hospital I work in London and was made aware of Leckeys 'Squiggles early activities system'. This looked like an ideal piece of equipment to use both in the unit but also to provide to parents to utilize with their children in their own home. Myself and the wonderfully creative Indian OT Shruti set about creating our own version, using pieces of bed foam and wire mesh and lots of Velcro! We were really pleased with the outcome, which we managed to make for about 1200 rupees (about 12 English pounds) and we provided our first one to a family with a little boy with Erbs Palsy who had to spend half their year buying and selling in Rajasthan, meaning they had no regular therapy input during that time. During my travels after leaving the unit I had the pleasure of visiting them in their home in Jaipur and it was great to see them using the system daily and the difference it was making.
| | |
| --- | --- |
| | |
With a project like Handimachal there is always opportunity for change and development. The permanent team is doing such a fantastic job, and partnered with volunteers who bring in new ideas and ways of working it will hopefully continue to thrive and really make a difference to many children's lives. I would recommend this project to any OT, Physio or APA (adapted physical activity) who is considering giving some time to volunteer abroad, I have taken away from it more than I could have imagined, and left with even more of a passion for Occupational Therapy.
Tori North
(OT volunteer, July-October 2013)
---