June 9 2013
1
09
/

06
/

June
/

2013
13:41
This is a summary on the activity of the Handimachal programme over the last months, translated from the newsletter published by our head association "La maison des Himalayas" one month ago, and adapted to recent developments in Kullu.
---
Since the beginning of 2012, the team of the Handimachal Kullu Therapy Unit was able both to improve the quality of services to disabled children and to gain its credentials with families and local medical actors. The team also continued its home-based programme and its awareness mission towards the local population, both in villages and in schools and colleges, although since several months "searching" for children with special needs is no longer in the agenda: families now directly refer their children to the Unit or are being directed by general practitioners or other physiotherapists of the district. It took three years to achieve this, and at the end of our fourth full year of activity, it was not rare to welcome more than 15 children in one day: a new organisation became obviously necessary.
The Handimachal team in Kullu comprises four permanent members as of today: Mayur Sharma (physiotherapist), Shruti More (occupational therapist), Ramneek Bodh (office assistant and our "network" agent) and of course Kirna Devi, very much essential as OT assistant and of course for her numerous cups of tchai throughout the day!
At the end of April 2013, Ajay Kayshap, speech therapist, suddenly left the team to pursue a different carrier in a big private school in Manali – quite an unfortunate situation for the numerous children in need of speech and language therapy. Fortunately, we could approach an experienced speech and language pathologist from another Indian state and he should be able to join at the end of June (hopefully).
Foreign volunteers still do answer our invitations and we were so lucky to receive the help this year of several occupational therapist volunteers: Alycia Walker (UK), Samantha Goodwin (UK) who did an excellent work in structuring and developing the team's good practices, Karen Stelter (Australia), Romain Smagghe (France) who will leave Kullu before mid-July after welcoming Tori North, the next OT volunteer (until beginning of November).
Christelle Pettazzi and Clarisse Capiez, both from France, have been supplementing the work of OTs with APA (adapted physical activity) programmes which are very popular with children. Chloé Cornier, French APA volunteer) has been conducting her mission since March and will leave Kullu around 20 June, followed by two other APA volunteers from France (Gaëlle Leclerc and Marine Asselin) who will continue this programme until end of December.
From Canada, Denise McVicar, a very experienced speech and language pathologist, gave two months of her life to improve Ajay's professional capabilities and give valuable guidance in terms of patient inflow management, considering the high but still fluctuant attendance of children.
Over the last 12 months, the Handimachal team had been providing rehabilitation services to disabled children of Manali within the premises of the Day Star School and with the support of Mr Benoni Molgeri, special educator in charge of the Day Star School Learning Centre. Over the last few months, the complementarity of initiatives developed by Handimachal and by the Day Star School Learning Centre became obvious, both on clinical and on social aspects. At the same time, after completing its fourth year of operation, it was time for the Handimachal Kullu Therapy Unit to redefine its strategy and model.
During my stay in Kullu-Manali in March-April this year, I have finally decided to approach the management of Lady Willington Hospital (LWH) and Day Star School (DSS) with the proposal to officially link and develop a comprehensive structure under their management.
At the same time, as the MoU signed with HPVHA Shimla was coming to an end on 31 March 2013, and considering their difficulties to get involved practically in the programme, the termination of our cooperation was notified to them. The transfer of assets acquired through French funds and of unused funds (Rs 49,774), in accordance with FCRA provisions, has been officially requested to HPVHA.
The new MoU (cooperation agreement) has now been signed for two years with the Lady Willington Hospital and Day Star School Society, and the whole Handimachal team was officially introduced to the hospital and school staff and administration a few days ago.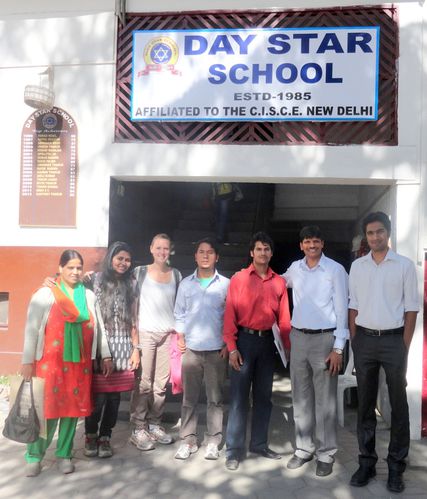 From left to right, on 2nd June 2013 in Manali:
Kirna Devi, Shruti More, Chloé Cornier,
Ramneek Bodh, Mayur Sharma, Vijay Kumar (Principal of DSS)
and Benoni Molgeri (Ben), now Programme Coordinator for Handimachal
One of the advantages for our association is that the operation of the Handimachal programme in Kullu can now be geographically closely controlled and that a dynamic impact can be given locally, with good clinical and social support.
With disability now in the focus and agenda of LWH and DSS, Handimachal can develop new perspectives and new strategies for children with disabilities in Kullu district.
Dominique Dufau,
President, Handimachal (France)
8 June 2013
---