December 1 2011
5
01
/

12
/

December
/

2011
22:32
After months of discussions, exchange of emails, Skype interviews, missed arrival, doubts, I am happy to announce that the Handimachal team now counts an Indian permanent occupational therapist.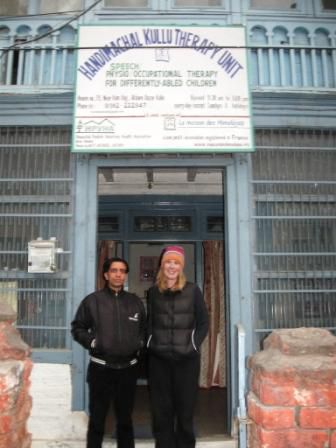 Naveen Dhiman, Bachelor of Occupational Therapy from the Delhi Institute of Rural Development (University of Delhi), joined our team this morning, 1st December 2011, and can be seen, in this picture, in front of the Handimachal blue house with April.
Having a permanent OT from Himachal Pradesh (in fact from the neighbouring district of Mandi) is really what I wished for the Handimachal project and it will allow us to continue promoting this profession in the area and of course to better serve the local community.
Naveen is rather new in his profession but I am confident that he will soon deliver his full capabilities with the help of April Knight until mid-December, and all through 2012, with the cooperation of our next OT volunteers : Siobhan O'Connor (from Australia, from end of January), Samantha Goodwin (UK, from June) and Maria Ruiz Plana (Spain, from October).
Christelle Pettazzi, a French teacher for adapted sports activities, will also join the team from beginning of March in order to relay Laura in the sports programme successfully implemented by Laura Turnaco.
Even if I want to remain prudent regarding our expectations for the project, 2012 seems very promising for Handimachal.
Welcome to Kullu, Naveen!
Dominique, 1st December 2011