March 4 2013
2
04
/

03
/

March
/

2013
20:15
Arriving in Kullu at the beginning of February my first impressions were slightly skewed as the entire first week was spent with non-stop heavy rainfall, snowfall on the upper valleys, occasional bouts of electricity and hardly any children coming in to the unit; I have to admit I was feeling slightly homesick as I cooked my dinner by candlelight whilst wearing the entire collection of my jumpers and scalves and thinking about the Australian summer that I was missing out on.

What a difference sunshine makes to Kullu Valley!

From days of non-stop rain to waking up to a perfectly blue sky, sun peaking up over the mountains, snow topped Himalayas in the background, and the entire population of the town coming out to sun themselves, I was quickly shown a new side to things that showed me how right I was in coming here.

Each day here seems to bring with it a new surprise and I find myself continuously learning new things and adapting my practice. I hope that during my time I can contribute at least half as much as I am learning, both from the team and from the children and their families themselves.

Things happening at Handimachal…

Last week I was feeling slightly guilty after finding out I had been illegally harbouring three plastic bags in my room (officially banned from Himachal). My conscience was put ease as we rehabilitated 70 plastic water bottles found in storage. Inspired by a recycling art project Shruti had seen in Mumbai, we decided to make a Sensory Hanging Wall that proves auditory, tactile, and visual stimulation to children as they pass through it.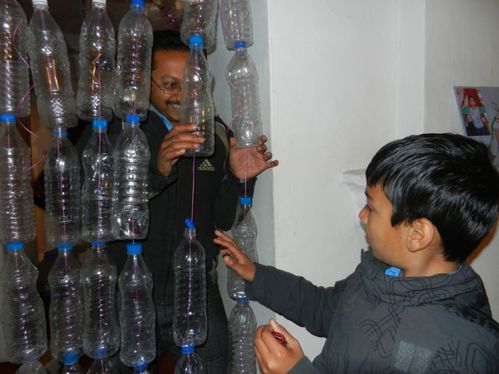 Milan and Ajay exploring the new Sensory Hanging Wall
Coincidentally following on with the recycling theme; one of our regular children, Sagar, is starting on a long term project making the newspaper bags that are widely used by all of the local stores. This activity aims to provide Sagar some autonomy and self confidence whilst working on fine motor skills, bilateral hand use, sequencing and motor planning as well as cognitive skills. Sagar is very enthusiastic about this project; currently we are experimenting with paper folding techniques and glue recipes and once this is perfected, he hopes provide the paper bags to a local convenience store; connecting him and also Handimachal to the local community.
In an effort to encourage Continuous Professional Development team discussions on various topics are being held on a fortnightly basis. Using current evidence, personal experience and research the discussions aim to positively challenge each other's views and learn to learn from each other. Last week our first discussion on the importance of building rapport throughout the therapeutic relationship was very successful, some specific strategies for children with Autism were discussed, and it was great to see them being integrated into therapy sessions in the following days!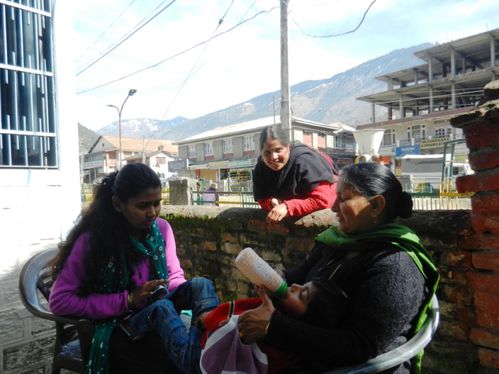 Kullui 'Sunshine Therapy' with Khana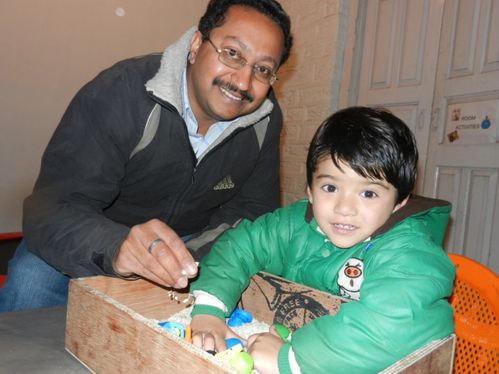 Ajay and Swarit
Shruti and I have also been working hard at developing a Functional Memory Assessment that we can use with some of the older children we have coming in post TBI or CVA. Busy over the last few weeks, we were finally ready to trial one of the subtests today. We hope to have the final version of the Handimachal Functional Memory Screen ready for use next week.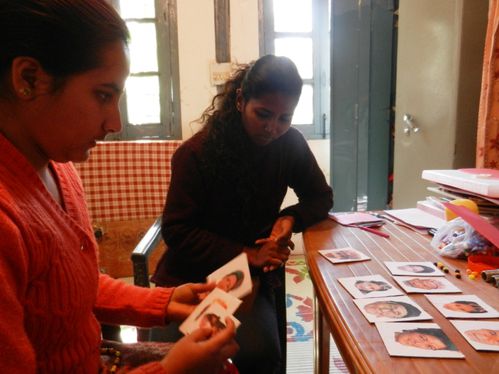 Trialling the Memory Screen with Rozy
Busy days at Handimachal, and looking forward to Dominique's arrival and meeting the new volunteers in three short weeks!
Karen Stelter, OT volunteer
1st March 2013
---