I am very happy to introduce myself as the new OT volunteer at the Handimachal Project in the charming town of Kullu. "Mera naam Samatha Hai!" First I will tell you where I am from, my first impressions in the Unit and my hopes for working with the team.
"Mai Scotland se hun" (I am from Scotland). I live in Edinburgh and have worked as an OT for ten years now. I have work in adult learning disabilities and Alternative and Augmentative Communication and then a year with VSO in Guyana, South America. My work in Guyana was to build the skills of rehabilitation staff in the profession of Occupational Therapy and support the strengthening of their referral, assessment and treatment process of both adult and child patients.
Having enjoyed my first volunteering placement working and living in a different culture (a melting pot of Afro, Indian and Amerindian cultures with a Carribean twist) I was really motivated to have another experience. So when I learned of Handimachel Unit I was delighted by the idea to come to India and live in the mountains and eat my favourite foods – dal and fresh vegetables and learn about Indian culture.
I arrived to Dehli in June… thanks to Dominique's good instructions I found my way to the guest house in beautiful old fashioned taxi with a chatty driver who told me about the buildings as we passed them. Dehli was very hot, dusty and busy. Lots of people, noise, smells and activity. I enjoyed a day in Dehli going to the Red Fort and felt a little bit famous, as everyone wanted to say hello, shake my hand or take my picture!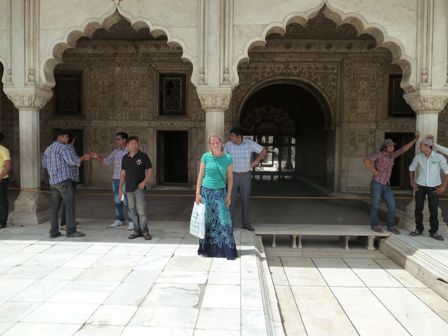 Samantha at the Red Fort in Delhi

After a long bus ride to Kullu, I was greeted warmly by Alycia (volunteer OT, easy to spot with blonde curly hair!) and shown to my new home for the next five months, after a sleep I made my way to the unit and received a warm warm welcome from Ajay, Mayur, Alycia, Christelle, Kirna and Ramneek and hear Shruti, the Unit's new OT, will return from a mountaineering course the following week (how exciting!).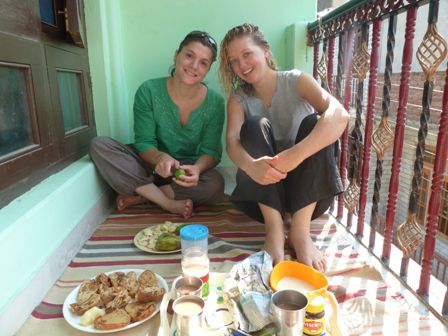 Breakfast on the balcony with Christelle and Alycia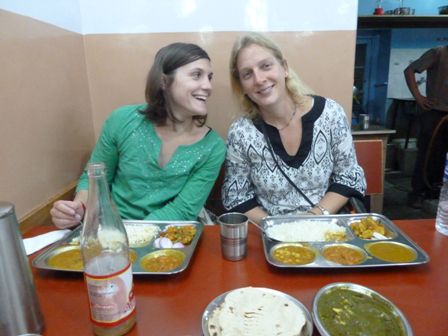 Samantha's first thali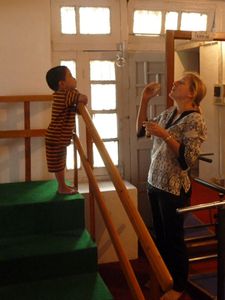 The Unit is full of colours and many resources have been bought, made or recycled so I immediately see the creativity of the team to 'use what they have' around them. This afternoon families are here with their young children sharing some food and the children are full of smiles and the mothers greet me warmly.
Over the first few weeks I see Alycia and Christelle carry out wonderful joint sessions working on gross motor, fine motor, social skills using fun activities such as obstacle courses, knocking down skittles, climbing the stairs and bouncing on the gym ball. I see Ajay working with the children on their speech as they play with activity boards, bubbles and balloons. I see Mayur use both passive and active stretches and exercises to keep the children's range of movement and prevent long term problems such as contractures. All the time the families are close by learning what the therapists do to practice at home, they join in and help the team with their work. A full team in action.
My hopes in working with the team are as follows:
support the development of referral, assessment and treatment process to create a consistent and more formal process,

share and exchange knowledge and skills to add to the good work completed here,

continue to build equipment and resources to make therapy fun and play accessible,

support the team in outreach work to communities to raise awareness of the Unit, disability issues and increase referrals.
My next blogs will share with you how we have worked together to improve each of these areas with some practical examples and pictures, enjoy…
Samantha Goodwin