With each volunteer come different skills, different knowledge and different experiences. With the local team comes an in-depth understanding of the culture and typical family habits and patterns. The exchange of information integrates both inside and outside knowledge for the benefit of each child. I really love this combination and sharing different perspectives leads to creative and relevant ideas to develop the Unit's practices. My background has meant I can share skills on different subjects, the team have chosen the following areas as relevant to the team's needs.
Seating and positioning

– Assessment of specialist seating, designing individually tailored seating, you can see the results from a previous blog where Aastha and Chanrekiran received a supportive chair.


Seating to give good position for play and eating
Tilt in action
Tilt mechanism
for chair
Play for development and learning

– types of play, stages of play, how to adapt play for children with different disabilities. The team will use the interactive activities from this workshop for a parent workshop we are planning in September in Manali.
Shared reading (pre reading skills) and importance of books

– how to support children with disabilities to access books in a meaningful way to their level of understanding (taking place this month)
Professional Development

– Reflective practice, continuing professional development (October)
Sensory Integration

– an introduction to what is Sensory Integration, how to assess for sensory processing disorders in children, how to offer children a sensory diet to integrate their senses (October)
Alternative and Augmentative Communication

– using objects, photos, symbols, symbol board and symbol books to communicate where speech is not viable for a child. Ajay and I have been working together on this area case by case. You will see a case study written by Ajay coming soon.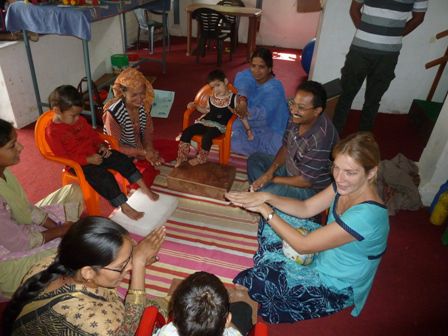 Joint OT and Speech Therapy group
Along with the workshops, informally we work together to improve the therapy provided by planning sessions together based on assessment results, trying out group work and new activities, asking each other questions and problem solving together about cases that challenge us.
Samantha Goodwin

---