"Support the development of referral, assessment and treatment process to create a consistent and more formal process"
With the increase of patients to the Unit and also the regular attendance of children, the team have been snowed under and so we got together to help clarify and organise each child's journey through the therapy process. It is important to ensure each child receives the same quality of service and each member of the team is consistent with their assessment process. The following has been put into action over the last ten weeks…
Referral pathway – a document that clarifies the different stages of referral, assessment and treatment phases each child can expect with approximate timings including when reviews of treatment should take place.
Initial multidisciplinary Assessment – the team reviewed their current process and designed a new initial assessment to go along with the registration form to ensure all the right questions are asked of families from the beginning. We have included more details on the parents' views and home situation as well as the child's likes and dislikes to help the team understand the child and family early on.
Individual Professional Assessments – each team member has little in the way of standardised assessments for the children and so assessment was informal through treatment and observation. Thanks to my resources built up from my volunteer placement in Guyana and some extra effort from the team, we now have a whole collection of assessments for different purposes.
Treatment plan (thanks Alycia) – Alycia the previous OT volunteer had introduced treatment plans and review meetings for the children to formalise treatment goals for each child to focus and prioritise the therapy provided. The team have continued this process and now we aim to review two children per week by getting the team together and discussing each case in detail.
Use of GAPE notes to record patient progress – nobody likes progress notes (wherever I have worked in the past!!), so to make things a little quicker, easier and consistent the team have looked at different professional note styles and adopted the GAPE note system to record each session with the child.
Individual patient files – now we have so many sessions, we have made up patients' folders for each child, mainly as sharing one computer meant there was a queue for writing up notes, but also so we could review a child's progress more easily and share each other's assessments and progress.
This is a huge amount of changes and I really must congratulate the team on how well they have contributed, adapted and accepted these processes. I see huge improvement in the quality of work as a result.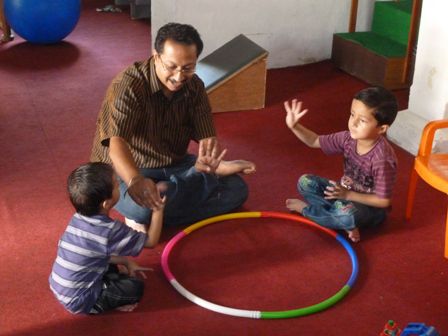 Ajay giving speech therapy in a group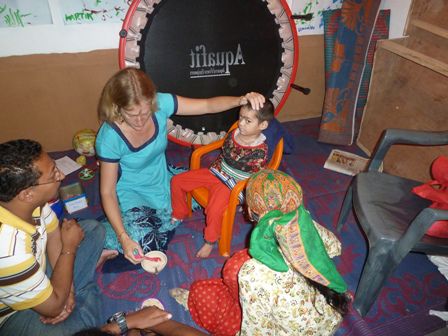 Samantha and Ajay completing feeding and safe swallow assessments
For example, Ajay now uses a speech and language assessment to find out a child's expressive and receptive speech level and this information helps him to formulate more accurate and relevant goals to build individually tailored therapy sessions. Shruti now has a range of assessments for the different children's needs such as: eating and drinking, seating and positioning, sensory integration, school assessment and functional skills assessments. Mayur has designed his own assessment for physio which records more efficiently a child's physical range of motion, mobility, reflexes, tone, neurological, orthopaedic and manual muscle testing. Great work team!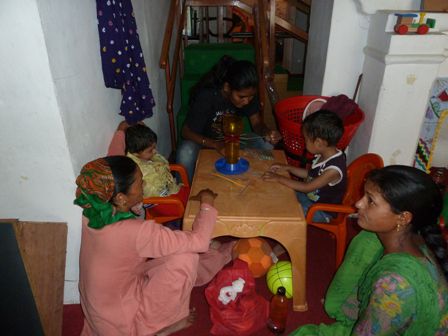 Shruti using a fun game to promote hand function and social skills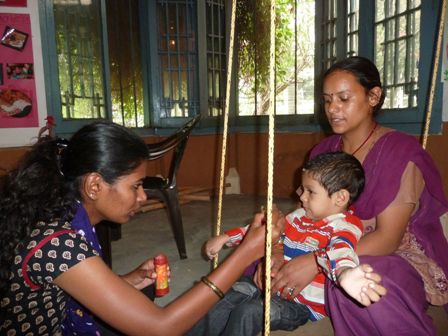 Shruti using sensory swing for balance, movement sensation and altertness
So what are GAPE notes?
GAPE notes help to clarify what the therapist is doing that session and also to evaluate its effectiveness and forward plan.
G – Goal e.g. to achieve reach, grasp and release of small toys in play
A – Activity e.g. therapist will use the shape sorter and bubbles to practice these skills
P – Participation e.g. the child was able to reach for the bubbles to pop with right hand in all directions, and able to reach forward, but not to side with left hand, child was able to grasp shapes, but needed support to release shapes due to high tone in hand muscles.
E – Evolution e.g. next session adjust seating position to facilitate hand function and give support to shoulder to help movement of left arm in reaching.
Hope this gives you some insight to the work the team completes 'behind the scenes'.
Samantha Goodwin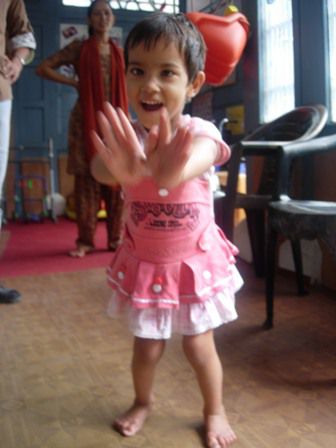 Bhawani now standing on her own thanks to the team
---