Already the Unit has many useful toys and equipment for the team to use in therapy sessions to encourage the different skills we aim to improve. However, as the children grow and develop and as each child has different needs for play and learning, building on resources is a continual process. Different children, team members and volunteers offer different ideas and creativity.
Here are some pictures of the resources we have developed recently and little explanation of how these toys will help the team provide therapy….
---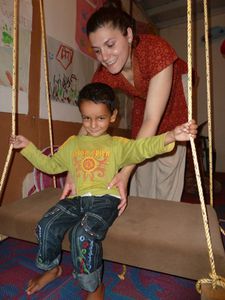 Deepak sitting on the swing

Sensory swing – Designed by Alycia this swing gives children different movement sensations (vestibular or balance) to help them organise their body, increase awareness of their body position, balancing in sit and stand, some children feel more alert during this activity and others find it calming, research shows children sometimes are more vocal during movement . There is enough room for two so can also be a social play opportunity. It's also lots of fun!
---
| | |
| --- | --- |
| | |
| Sabina loves a bounce | Karan tests the trampoline |
Trampoline – Similar to the swing the trampoline offers different movement sensations (proprioceptive or feeling in muscles and joints) to help children organise their body, awareness of body position, balance.
---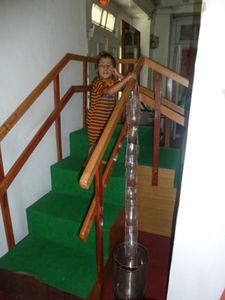 Marble shute

Marble Shute – this came from the increasing number of water bottles in the Unit, so I had to recycle them… This is great for encouraging children to stand for longer periods, it can encourage hand function skills (holding the pot and taking out marble, coordinating to put into top) and listening and waiting skills (hear it drop through the bottles and wait for the doing! As it hits the tin container at the bottom) and turn taking (take turns with peers or parent or therapist). The kids love it!
---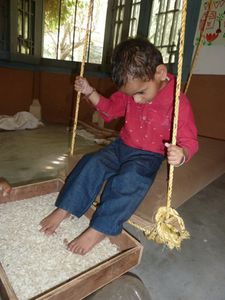 Gulshan using sensory box to explore with his feet

Sensory box – simply, this is a tray we fill with different items such as beans, rice flakes, pasta shapes for the child to explore with their hands/feet. Exploring different textures and shapes helps develop a whole range of skills from fine motor control (picking up with fingers), awareness of texture size and weight, how things move. Sometimes we hide objects in the beans for the child to find to teach object constancy, figure ground and sterognosis.
---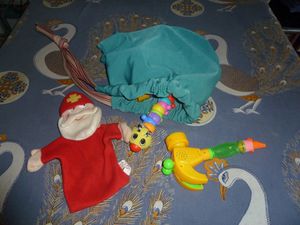 What's in the Bag

What's in the bag – from some left over material we made a draw string bag. Inside we place different interesting toys or objects for the child to open and pull out. This bag is also great for turn taking in a group setting.
---
| | |
| --- | --- |
| | |
| Khana enjoys the hammock | Cheiku and mum enjoy peekaboo |
Hammock – Inspired by my year in Guyana where every home has a hammock in the porch, we made one to give children another sensory/movement experience similar to the swing. The children soon showed us also they could play peekaboo by hiding themselves and then leaping out at us!
---
Wild animals play set – Animals are great for noises and actions, so a perfect addition for Ajay's speech sessions to encourage fun actions and noise making! At a different level, the children can use their imaginary play skills and let a whole scene unfold…
---
| | |
| --- | --- |
| | |
| Ramneek creating car track | Racing track - vroom vroom! |
| | |
| Samantha drawing town scene | Town scene for car toys |
Racing track, town scene and track scene with cars – hand function for boys can be a tricky one as at a young age they usually like to move rather than sit and play. To motivate the children to use their shoulders and hands in big and small movements, in preparation for writing skills we bought some little toy cars and made three different scenes for the children to use. From a communication point of view lots of language, actions and sounds can be encouraged too – Vrooom vroom! Crash! Bang!
---
| | |
| --- | --- |
| | |
| Larka - body awareness | Larki - body awareness |
Body parts chart – boy and girl charts made with body parts labels for interactive game to increase awareness of body parts.
---
Mirror – Children love to see themselves and others in the mirror, great for peekaboo, copying facial expressions and increasing awareness of self.
---
Feeding/oro motor box – this little box contains some useful items for Ajay, speech therapist to use to assess oro motor skills such as balloons, bubbles, chew toys, straws, party blowers. These can help assess for child's ability to suck, chew, blow and close lips into shapes, necessary for speaking and feeding.
---
| | |
| --- | --- |
| | |
| Communication symbols, ready to use | Kirna helps to make communication symbols |
Symbols – Ajay and Samantha have made up some symbols to help the children with more complex needs have choices within their play activities. Symbols range from pictures of toys to choose what game and choices of body parts to choose how they pop bubbles. More general symbols are also made for: Stop, again, go, happy, sad.
---
In the next few weeks, we have more to come…. Watch this space, we are getting busy!!
Samantha Goodwin
More pictures to be found in the "OTs' corner" album