November 28 2012
4
28
/

11
/

November
/

2012
12:51
While Samantha, our latest OT volunteer, left Kullu more two weeks ago already to continue her adventure travelling in India, and Denise (speech therapist) has just flown back to Canada, Clarisse (APA volunteer) is now heading back to France.
A few days ago, some of our patients could participate in the annual Sports Event for differently-abled children, in Kullu, and Clarisse sent a small summary of that day.

This gives me the opportunity to express once again our gratitude to all our volunteers who made the Handimachal programme such a unique venture.
Dominique Dufau
---
27 November 2012, by Clarisse Capiez
Yesterday a few children and teenagers from Handimachal attended a sports event for children with disabilities, at district level, in Kullu. The families came one by one and the event started around 10.30. Shruty, Mayur and I were there to support and encourage the children.
The sun was with us for this day and all the children enjoyed the event. Kartik, Rozy, Sagar, Premjeet and Dinesh were enrolled in different categories: 50m assisted walk, 50m running, 100m running and soft ball throw. Other activities were played such as bocce, skipping rope for children with different abilities… and the children from the school for visual impaired made this event very musical as well. Sagar even sang a song on stage.

All of our 5 participants received a medal and 2 of them (Premjeet and Sophia) have been qualified for the state level competition in 2 weeks, I will not be there with them but I wish them good luck.
Congratulations to everybody!
Clarisse Capiez
Adapted physical activities teacher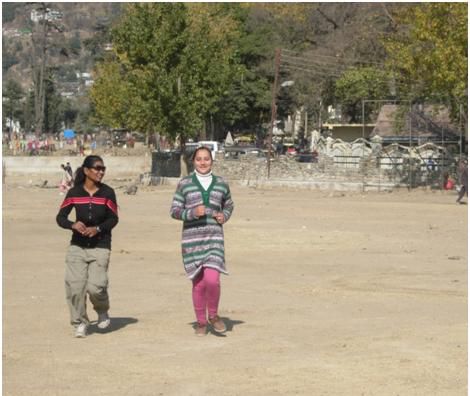 Rozzy and Shruti warming up for 100 meters open category.
It is important to warm-up, Rozy won the race.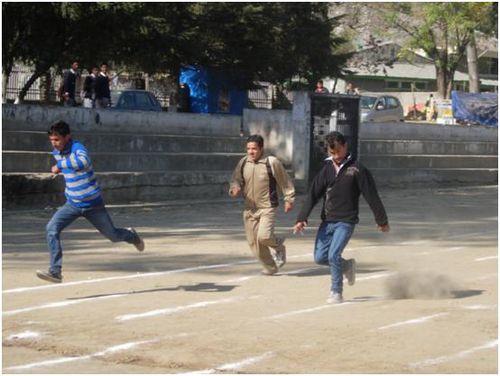 Premjeet (left) and Dinesh (right) in the 50 meters race.
Premjeet is selected for the state lefel race.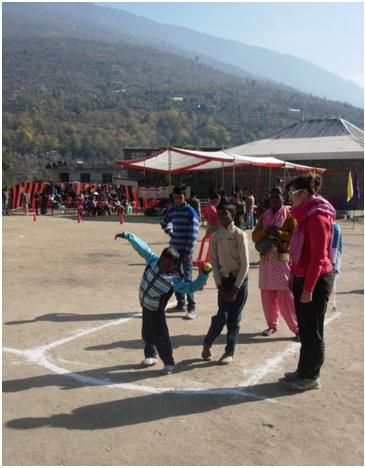 Kartik, the youngest member of our team, in the soft ball throw.
All team members encouraged him.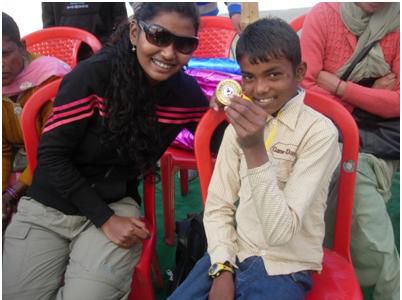 Sagar, here with Shruti, is proud to show his medal.
---