October 10 2013
5
10
/

10
/

October
/

2013
13:18
'The Handimachal Therapy unit gives a ray of hope, a new way of thinking, a new goal'
Above is just one of the positive comments provided by patients and their parents, at the Handimachal Kullu Therapy Unit.
Evaluating and improving our own work is something which is of upmost importance in any healthcare setting, to insure quality and consistency. In the Handimachal Unit we often have informal feedback from parents, but I thought it would be really beneficial to have some formal feedback in the form of a patient/parent questionnaire. In the hope we would be able to identify areas we could improve, and to ensure we are meeting the needs and expectations of our patients.
So we set about constructing a questionnaire of six questions, hoping to ask enough information without it being too lengthy! The types of questions asked were based around whether parents/patients felt their condition was fully explained, and whether they felt they would manage their condition at home. Also about the resources in the Unit, and their experiences during their visits to the Unit. We made the questionnaires anonymous and encouraged participants to provide additional comments and suggestions (in Hindi), both positive and negative!
Overall the outcome was very positive. From the 6 questions the only ones which had some negative answers were regarding the Units resources.
The additional comments provided were really helpful. Some suggestions provided were for an Orthotist, a Speech and Language Therapist, an Acupressure specialist, and more resources/facilities.
We were also overwhelmed with the enthusiastic responses and comments from both the parents and the patients themselves.
'The way the staff members deal (with the patients) gives the place a homely atmosphere'
'My child's limbs are better than before, initially he was unable to sit or speak, after coming here he has started walking with support'
'I would like to tell others to not keep your special child within walls'
'I want that other people should also help the unit to grow, so that it can be a blessing for our kids'
'The staff of Handimachal Therapy Unit are very co-operative and helpful'
'Here the specialists put in their best to make the special children lead a normal life'
One young man described how he has benefitted from attending the Unit…
'I love to go to the Handimachal to learn and play. Before I could not speak and people could not understand what I said. Since I have started coming I have slowly learnt to speak. Now people can understand me, I am very glad about this. I am very thankful'.
Some of the suggestions are already being actioned, with a new Speech and Language Therapist hopefully joining us soon, this will meet the patients SLT needs. Also with thanks to some recent kind donations we are trying to improve and expand the Units resources, we are currently looking at purchasing a selection of standardized assessments and potentially a new Therapy swing.
We will continue to use the questionnaire over the next couple of months to gain as many responses and suggestions as possible, thank you to all our wonderful patients and their parents for their ongoing support and enthusiasm!
Tori North, OT volunteer
10 October 2013
Thank you to each of you for all the hard work over these past four years, families expect a lot from us and we should not deceive them.

This ray of hope must lighten the whole Kullu valley - let's chase these clouds!
Dominique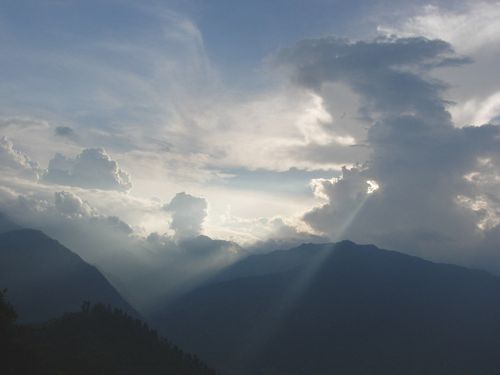 ---