February 10 2014
2
10
/

02
/

February
/

2014
21:22
A beautifus post by Shakuntla, Special Educator: the original text in Hindi is followed by the translation into English made by Shruti - thanks to both of them.
---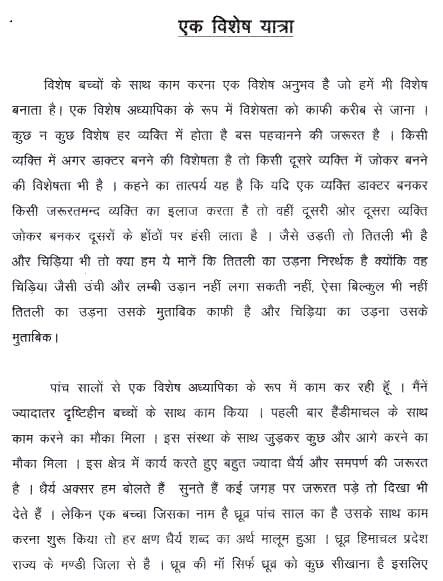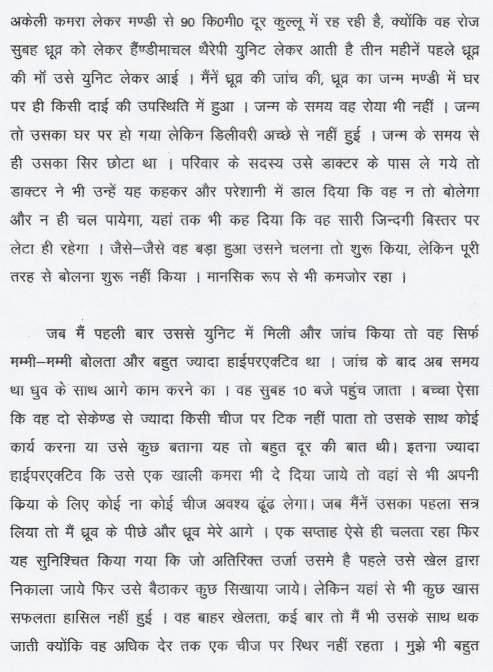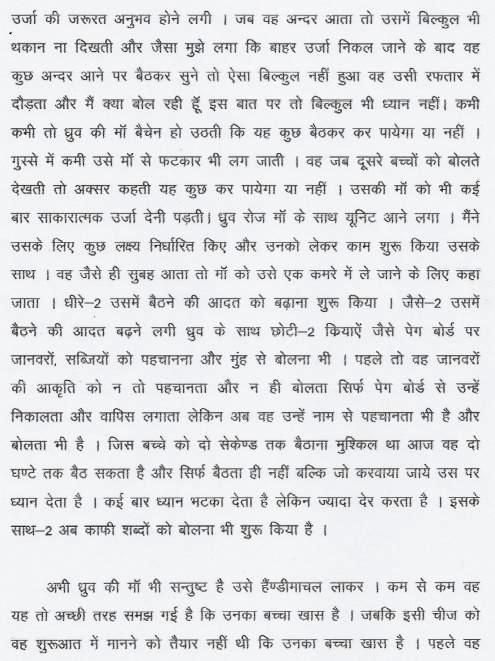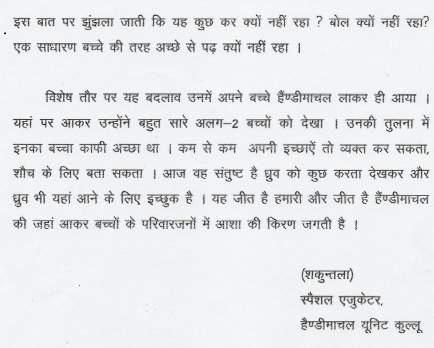 A Special Journey
Working with special need children is a special experience, which makes us special too. As a special educator I have experienced this specialty closely. There is something special in every human being, the need is only for it to be recognized. If one child has an inclination to be a doctor then some other child has an inclination to be a clown. Point here being, if one person can help people in their illness by being a doctor another person can make people laugh in their sorrows by being a clown. Like both the butterfly and sparrow can fly, the extent of their flight varies but that does not make any one of their flights less significant.
Working as a Special Educator at National Association of Blind, for 5 years made be recognize and appreciate the specialness of children's. Working at Handimachal gives me an opportunity to develop my skills even further. Working with these children requires a lot of patience's and dedication. Everybody knows what patience's is, we all can demonstrate that skill when time comes.
But working with Dhruv, a 5 year old child diagnosed with Intellectual disability, the word patience took a new meaning for me. Dhruv is local resident of Mandi district of Himachal Pradesh. Dhruv along with his mother have relocated to Kullu only to avail the benefits of therapy. Only with an aim that Dhruv will be able to learn something, Dhruv's mother has been staying alone in rented accommodation, away from her family. Dhruv has been coming regularly to the Unit for over 3 months now. After initial assessments and drawing baseline skills, we formulated a Therapy Plan for Dhruv. Born at home under a home nurse's assistance, Dhruv did not cry at birth. He had some medical complication thereafter and the Doctors had told the parents that Dhruv would not be able to walk or talk and would be bed ridden for the rest his life. The parents were highly discouraged and were in a state of shock. As Dhruv grew up, he attained his developmental milestone slowly. He began to walk by 3 yrs, but there was delay in his cognitive and communicating skills. On a referral by a Hospital in Manali, Dhruv's parents bought him to Handimachal.
Being an Attention Deficit Hyperactive child, our first goal was to bring his hyper activeness in control. Dhruv started coming to the Unit at 10 am every day. The initials days were very tough for Dhruv, myself and the mother. Dhruv would not sit in a place, would not concentrate on any task. The entire session time went in running around Dhruv. Gradually as time passed, Dhruv became less anxious and comfortable with the Unit atmosphere. It was decided to work of his excess energy first, by involving in rigorous play activities and providing him with all the sensory stimulation he needs. Many a times I used to drain out of energy but this child would still ask for more. The mother used to often get anxious seeing Dhruv this way, she wondered if a child would ever be able to learn anything meaningful and be like other children.
Gradually Dhruv's sting tolerance increased and he began to cooperate in the tasks. I began working with peg boards of fruits, animals, vehicles, alphabet boards and Dhruv started taking interest in the activities. His sitting tolerance had now increased with more concentration at the task on hand. He stared speaking more words than before. The three month goals set for him were achieved.
Dhruv's mother is satisfied and relieved to see her child make some progress. The place of initial anxiety and hopelessness in the mothers mind has now taken place by a positive attitude and courage. She is slowly but surely coming in terms with her special child. Her expectations from Dhruv are more realistic. After seeing other more complex need children at the Unit, the mother was able to better empathize with other parents and gained strength to face the challenges of raising a special child.
All these changes took place in Dhruv and his mother after they came to Handimachal. This Mother and Son duo are more than happy to come to Handimachal every day. One more attempt of Handimachal of making a difference is coming true…hand in hand in Dhruv we are!
Shakuntla,
Special Educator, Handimachal Unit Kullu
---